Dr. Andrew Holzman, a highly respected surgeon at TLC Laser Eye Centers, was featured on Good Morning America today. The segment relied on Dr. Holzman's vision correction expertise to help viewers understand a new procedure for people who are tired of their reading glasses.
In the segment, Dr. Holzman spoke candidly about the KAMRA inlay, a procedure that corrects near vision in patients in their 40s, 50s and 60s. With millions of viewers watching, Dr. Holzman described how the KAMRA inlay works and explained the many benefits of the procedure, which can include reducing or even possibly eliminating the need for reading glasses.
He was also filmed performing the procedure on a TLC patient.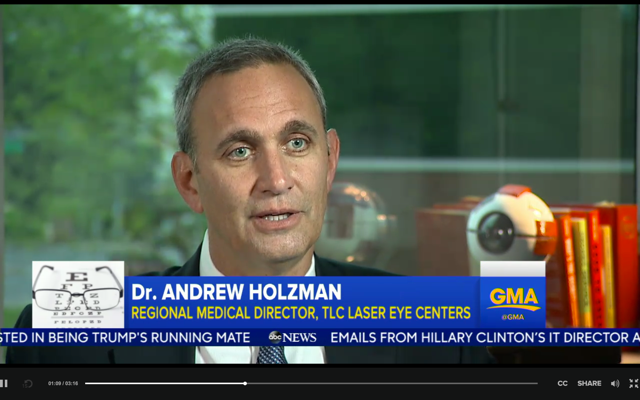 One of Dr. Holzman's previous patients was interviewed as well. Dr. Holzman had performed this vision correction procedure on this patient several weeks earlier, and she spoke about the impact the KAMRA inlay has had on her life. The patient emphasized that correcting her near vision had improved her lifestyle and said it made her feel 20 years younger.
"It was a privilege to be on Good Morning America, and I am grateful that I had the opportunity to showcase such a life-changing procedure," said Dr. Holzman. "I hope that this show inspires many other Americans who are struggling with reading glasses to talk to their doctors about the KAMRA inlay."
Dr. Holzman is the first in the Washington, D.C. area to perform the KAMRA inlay, and is one of a select group of physicians nationwide certified to do so.
To schedule a consultation for KAMRA with Dr. Holzman, interested patients should call 877-852-2020.
About Dr. Andrew Holzman
With more than 65,000 vision correction procedures under his belt, Dr. Andrew Holzman is an expert in the field of vision correction surgery. Dr. Holzman is certified by the American Board of Ophthalmology and serves as an elected member and Fellow of the American College of Surgeons. He is affiliated with both the University of Virginia School of Medicine and Georgetown University Medical Center, and he is a member of the select National Clinical Advisory Board of TLC Laser Eye Centers. As Regional Medical Director for TLC Laser Eye Centers in the Washington, DC area, Dr. Holzman treats patients at five locations: Rockville, MD; Washington, D.C.; McLean, VA; Charlottesville, VA and Gainesville, VA. For more information about Dr. Holzman, please visit https://www.drholzman.com.