Keratoconus: Symptoms, Causes, and Treatment
Keratoconus is a condition in which the corneal tissue weakens, allowing the cornea to bulge outward, resulting in nearsightedness and other vision issues. The condition is chronic, but it can be managed with the right treatment or combination of treatments. If you are experiencing any changes in vision, or if you have received a keratoconus diagnosis, you should schedule a consultation at one of Dr. Andrew Holzman's five Washington, D.C.-area offices. He can help you to understand the condition and determine the best way to help you maintain vision.
What is Keratoconus?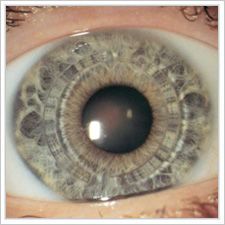 Keratoconus is a degenerative condition that affects the cornea, which is the dome-shaped frontal surface of the eye. The cornea consists primarily of collagen, a natural protein that is present in the skin and connective tissues. The main cause of keratoconus is the breakdown of the corneal collagen due to an imbalance of enzymes. This thins the cornea, causing it to bulge outward and take on a conical shape that causes blurred vision, nearsightedness, and increasing sensitivity to light. This condition usually begins in the late teens and almost always affects both eyes.
In some cases, keratoconus may begin as astigmatism. Many patients are not even aware they have keratoconus. Some patients are genetically predisposed to keratoconus. Other risk factors may include overexposure to the sun, poor-fitting contact lenses, chronic irritation, and excessive rubbing.
In some cases, keratoconus may begin as astigmatism. Many patients are not even aware they have keratoconus.
Patients with progressive keratoconus may need new eyeglasses or contacts every year after their annual eye exam. If your vision has become less reliable, or if you have been diagnosed with keratoconus and your current treatment is not providing you with adequate results, we can assess your candidacy for the different types of keratoconus treatments offered by Dr. Holzman.
How is Keratoconus Managed?
Dr. Holzman has been on the forefront of keratoconus treatment for several years, and offers a range of treatments in order to help patients achieve clear, dependable vision. He usually recommends conservative treatments before exploring the option of more invasive approaches. Depending on your needs, Dr. Holzman may recommend:
Prescription Eyewear: Maintaining a current prescription can counteract the effects of keratoconus. We offer several different types of contact lenses to meet patients' specific needs.
Intacs®: These corneal implants can alter the shape of the cornea to restore focus.
Cross-linking: This relatively new procedure involves using a combination of riboflavin drops and ultraviolet light to strengthen corneal tissue and restore a proper corneal shape.
Corneal Transplant: Usually only recommended if other treatments fail, a corneal transplant involves replacing the cornea with donor tissue.
Learn More about Your Vision Restoration Options
Your vision is an invaluable asset, and our mission is to help you achieve the best focus possible. Contact our laser vision practice online today or call the office nearest you if keratoconus or other conditions have compromised your ability to see clearly. We have five locations throughout the area to make outstanding treatment accessible.