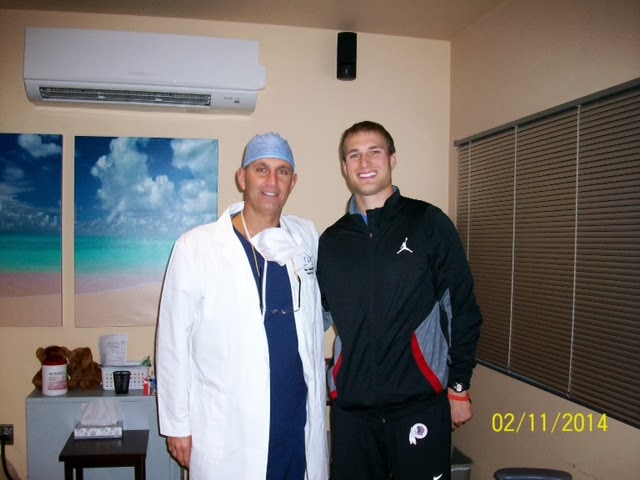 Redskins Quarterback, Kirk Cousins has LASIK eye surgery with Dr. Andrew Holzman
This week Dr. Andrew Holzman performed the LASIK procedure on NFL player Kirk Cousins and his fiance!  Kirk was tired of wearing contacts and was ready to rid himself of them especially when it came to wearing contacts and playing sports.  Many people who lead an active lifestyle and are involved in sports find wearing contact lenses to be a true hassle.  We often see patients who swim, run, bike or box who feel that their contact lenses are a nuisance to say the least.  Laser vision correction procedures such as LASIK and PRK are an excellent choice for people who lead an active lifestyle and do not want to deal with the hassle of wearing contacts or prescription swim goggles or glasses.  When in the hands of a board certified surgeon who specializes in laser vision correction it is not difficult to achieve your goal of having your best corrected vision without relying on contact lenses or glasses.  Dr. Holzman and his team are proud to say that Kirk achieved his goal of reaching 20/15 at his one day post op.  Read the post below written by John Keim at ESPN about Kirk's laser vision correction procedure:
February, 13, 2014
FEB 13
8:15
AM ET
By John Keim | ESPN.com
Kirk Cousins isn't averse to contact, but he was tired of playing with contacts. So he opted for Lasik surgery on his eyes — and now he wonders what impact that will have on his game.
Cousins underwent the procedure Tuesday and said there's a chance his vision will improve to 20-15.
In some ways the procedure provides a peace of mind. Cousins, like anyone who wears contacts, must carry a reserve pair. Having to replace a contact during a game can be an annoyance.
But Cousins hopes it leads to other possible improvements, whether in his peripheral vision or his vision overall.
"If it gets to 20/15, then there's an obvious improvement," Cousins said. "In this league the difference between Pro Bowl and getting cut is that small. For me in shotgun, when I go through the cadence my eyes are on the defense but as I'm closer to saying hut my eyes have to stay on the ball. To have my eye on the ball coming at me, I still have to feel a blitz from the left or right to know if you need to throw a hot or if the corner is blitzing off the edge. There's a lot to process and you have to feel the pass rush.
"The more you can see out of the corner of your eye – blitzes, pass protection, open receivers – all of it is effective. When you have strong peripheral vision you can take in a lot of information at once."
Related to This