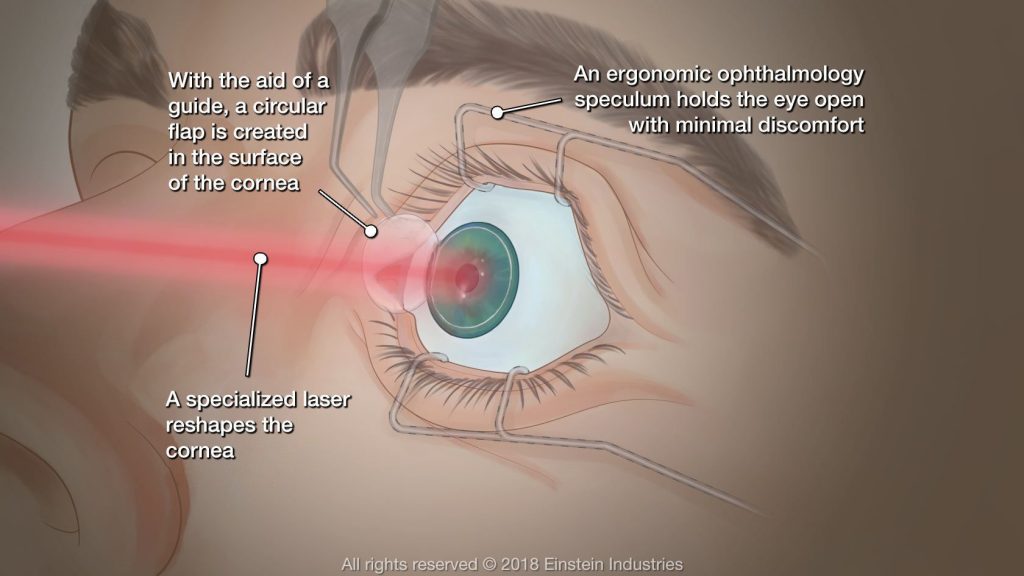 LASIK is one of the safest and most effective surgeries available today. By correcting the corneal imperfections that result in nearsightedness, farsightedness, and astigmatism, patients can experience clear vision without glasses or contact lenses.
There are many LASIK techniques and technologies offered by surgeons. This can make it confusing for patients when they are trying to find a skilled surgeon that offers the best LASIK technology.
At Dr. Andrew Holzman's practice in Washington, DC, we offer state-of-the-art equipment. Here, we discuss what we consider to be the best LASIK eye surgery technology.
Alcon FS200 to Create the Corneal Flap
The first step of the LASIK procedure is the creation of an incision on the outer layer of the cornea. This grants the surgeon access to the underlying stromal layers.
When LASIK was first introduced, surgeons used a manual keratome blade to create the incision. Today, surgeons have access to the Alcon FS200 laser. With this technology, surgeons use a computer-guided laser to create the corneal incision with improved precision. This technique results in lower complication rates and better visual outcomes. In addition, this phase of treatment can be completed quicker, which is a great benefit for patients.
Technology to Map the Patient's Cornea
Advanced technology creates a digital map of your eye detailing the lower and higher-order abnormalities that affect your vision. Rather than just basing your LASIK surgery on your vision prescription, we use this map, which is much more detailed. This allows us to more precisely improve your vision, resulting in clearer vision that offers more clarity.
Topography-guided Contoura LASIK
This technology utilizes precise corneal measurements and your eyeglass prescription to guide your treatment. With topography-guided Contoura LASIK, patients can enjoy improved quality of vision and reduced side effects such as sensitivity to light, glare, and difficulty driving at night.
Alcon EX500 Excimer Laser to Reshape the Stroma
After the corneal incision has been made with the Alcon FS200 laser at our Washington, DC, practice, Dr. Holzman will reshape the stromal layers with an excimer laser. The Alcon EX500 Excimer Laser offers a number of benefits, including effective and reliable results and a low risk of complication. In addition, this system allows us to quickly perform your LASIK surgery, reducing your overall surgical time.
The Alcon EX500 Excimer Laser is guided by the digital map of the eye to precisely reshape your cornea and correct the visual aberrations that cause nearsightedness, farsightedness, and astigmatism. In addition, it can address other vision problems that result from corneal imperfections, such as difficulty seeing when driving at night, halos, glare, and double vision.
Other Technology Used at Our Practice
While the three technologies mentioned here can be combined to create the ideal LASIK treatment plan, we offer other LASIK technology and alternative treatments that may be ideal for patients with more complex needs. By scheduling a LASIK evaluation at our practice, we can perform diagnostic testing to determine if LASIK is right for you and which technology is best suited to your unique vision problems.
Contact Our Practice
To find out what the best LASIK eye surgery treatment plan is in your case, contact Dr. Holzman's practice today. You can contact us online at any time or call us in Washington, DC, at (703) 552-5221. We look forward to hearing from you.
Related to This