Ophthalmologist Washington, D.C., Maryland, Virginia
About Dr. Andrew Holzman and Holzman Laser Vision
Dr. Andrew Holzman and the staff of Holzman Laser Vision correct the refractive errors and eye conditions of patients from Washington, D.C., Virginia, and Maryland using the latest technological advancements in laser eye surgery. A board-certified ophthalmologist with more than two decades of experience, Dr. Holzman is a leader in the field of vision correction surgery, having performed over 90,000 vision correction procedures and trained other ophthalmologists in LASIK techniques. Over the past ten years, Dr. Holzman has been serving patients in the Washington, D.C. area. Contact Holzman Laser Vision in Northern Virginia to learn more about laser vision correction of the highest caliber.
"We're Cautious, And We're Genuinely Caring."
Laser eye surgery safety is our priority. Dr. Andrew E. Holzman offers free, in-depth consultations to evaluate your candidacy and determine whether laser eye surgery is safe for you. Only about 80 percent of patients are approved because the process is extremely stringent.
Holzman Laser Vision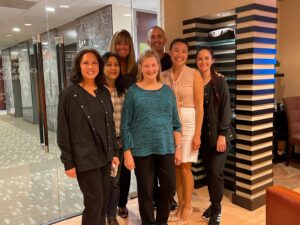 Located in the Washington, D.C. metro area, the office of Holzman Laser Vision is convenient to patients in the D.C., Virginia, and Maryland areas as well as patients flying into these areas through one of the three major airports. One of the country's leading LASIK surgeons, ophthalmologist Andrew Holzman is committed to ensuring that each patient goes into the procedure with a full understanding of that procedure. He holds patient education seminars every week, giving his patients the opportunity to ask questions and learn more about the refractive procedures offered by the practice. In addition, he and his staff work with patients individually to address their concerns, ease their anxiety, and help them to develop realistic expectations.
"Dr Holzman, Everything has gone smoothly since my surgery. My eyes feel great and the recovery has been better than expected. I really appreciate your help and can't thank you enough for your help. My soccer game has improved because of you!" — Lori Lindsey
In addition to our McLean eye care center, we also have an office in Chevy Chase, Maryland. Our Chevy Chase practice allows us to treat patients from a wide range of areas. If you suffer from vision impairment and live in Maryland, we encourage you to visit our Chevy Chase office to learn more about your treatment options. We are also located in Chantilly, Virginia just outside of Washington DC. Come to see us here if you are just outside of the Washington DC area.
A Positive LASIK and Laser Vision Correction Experience
The vision care professionals of Holzman Laser Vision work hard to ensure that each patient has a refractive surgery experience that meets or exceeds his or her expectations. Dr. Holzman and his staff take the time to guide each patient through the vision correction process, from the initial consultation to the post-operative follow-up visits. Contact Holzman Laser Vision to learn more about our patient seminars or to schedule an appointment.