Ophthalmologist Washington, D.C., Maryland, Virginia
About Dr. Andrew Holzman and Holzman Laser Vision
Dr. Andrew Holzman and the staff of Holzman Laser Vision correct the refractive errors and eye conditions of patients from Washington, D.C., Virginia, and Maryland using the latest technological advancements in laser eye surgery. A board-certified ophthalmologist with more than two decades of experience, Dr. Holzman is a leader in the field of vision correction surgery, having performed over 90,000 vision correction procedures and trained other ophthalmologists in LASIK techniques. Over the past ten years, Dr. Holzman has been serving patients in the Washington, D.C. area. Contact Holzman Laser Vision in Northern Virginia to learn more about laser vision correction of the highest caliber.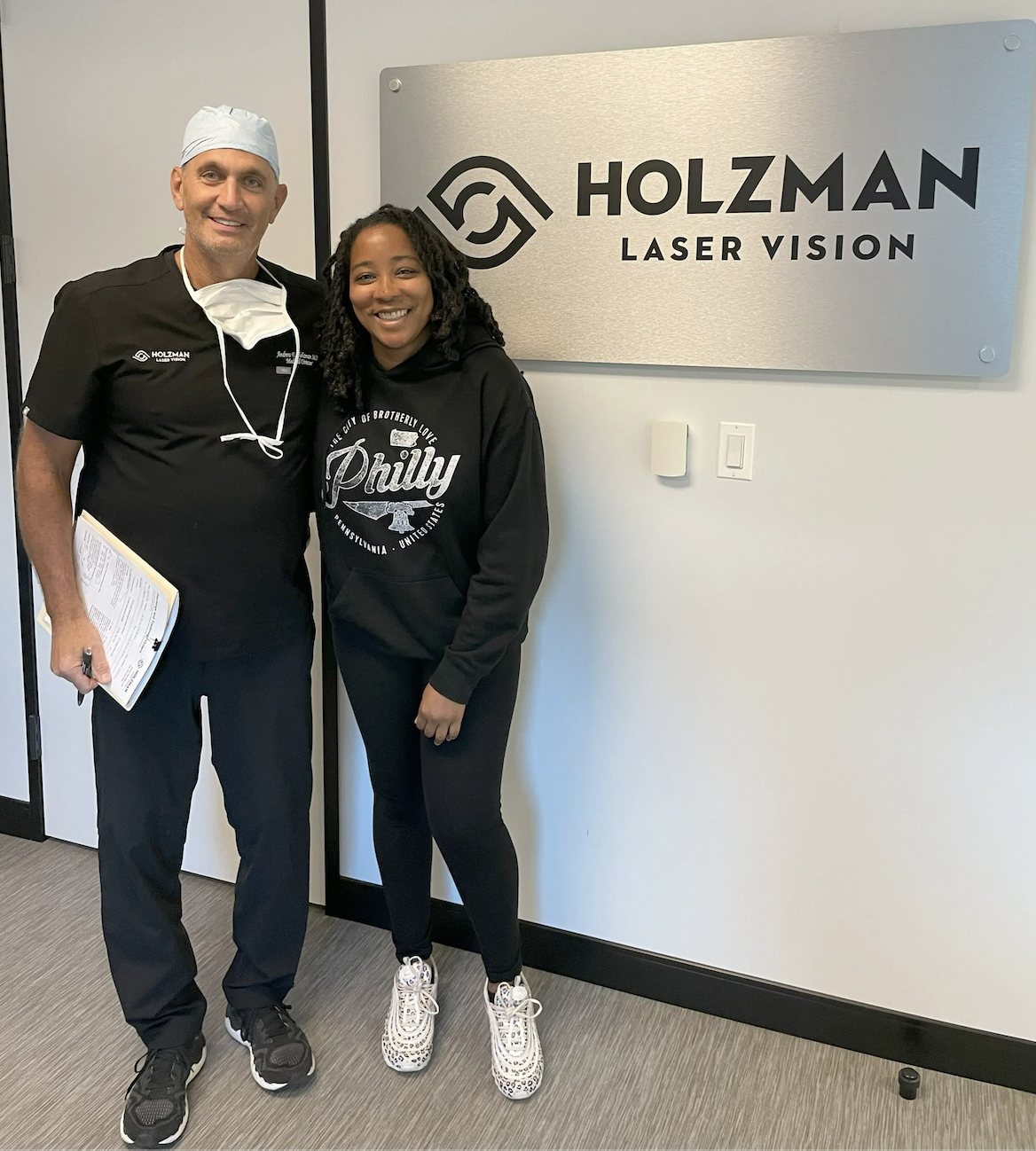 Holzman Laser Vision
Located in the Washington, D.C. metro area, the office of Holzman Laser Vision is convenient to patients in the D.C., Virginia, and Maryland areas as well as patients flying into these areas through one of the three major airports. One of the country's leading LASIK surgeons, ophthalmologist Andrew Holzman is committed to ensuring that each patient goes into the procedure with a full understanding of that procedure. He and his staff work with patients individually to address their concerns, ease their anxiety, and help them to develop realistic expectations.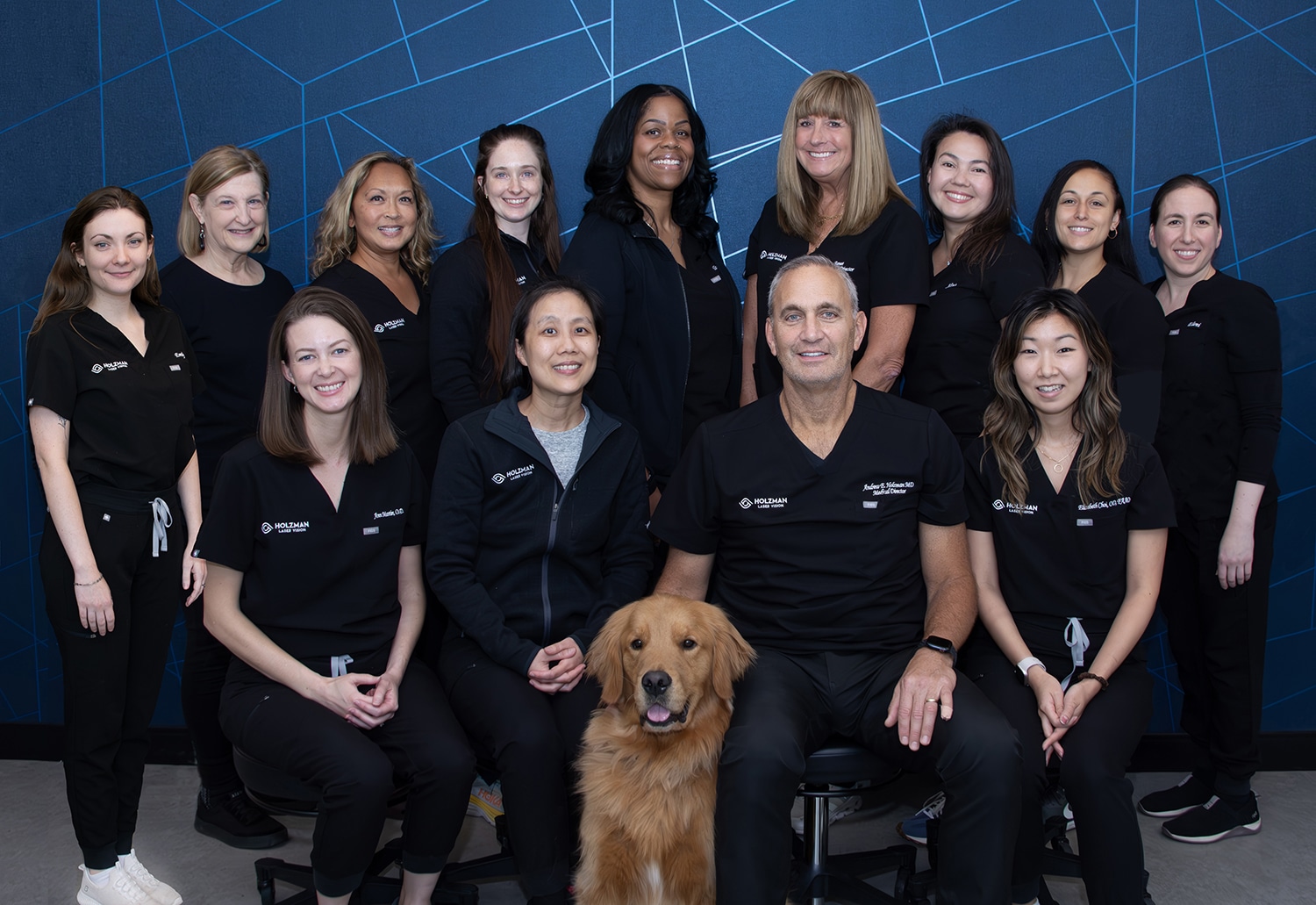 "Dr Holzman, Everything has gone smoothly since my surgery. My eyes feel great and the recovery has been better than expected. I really appreciate your help and can't thank you enough for your help. My soccer game has improved because of you!" — Lori Lindsey
In addition to our McLean eye care center, we also have an office in Chevy Chase, Maryland. Our Chevy Chase practice allows us to treat patients from a wide range of areas. If you suffer from vision impairment and live in Maryland, we encourage you to visit our Chevy Chase office to learn more about your treatment options.  Come to see us here if you are just outside of the Washington DC area.
A Positive LASIK and Laser Vision Correction Experience
The vision care professionals of Holzman Laser Vision work hard to ensure that each patient has a refractive surgery experience that meets or exceeds his or her expectations. Dr. Holzman and his staff take the time to guide each patient through the vision correction process, from the initial consultation to the post-operative follow-up visits. Contact Holzman Laser Vision to learn more about our patient seminars or to schedule an appointment.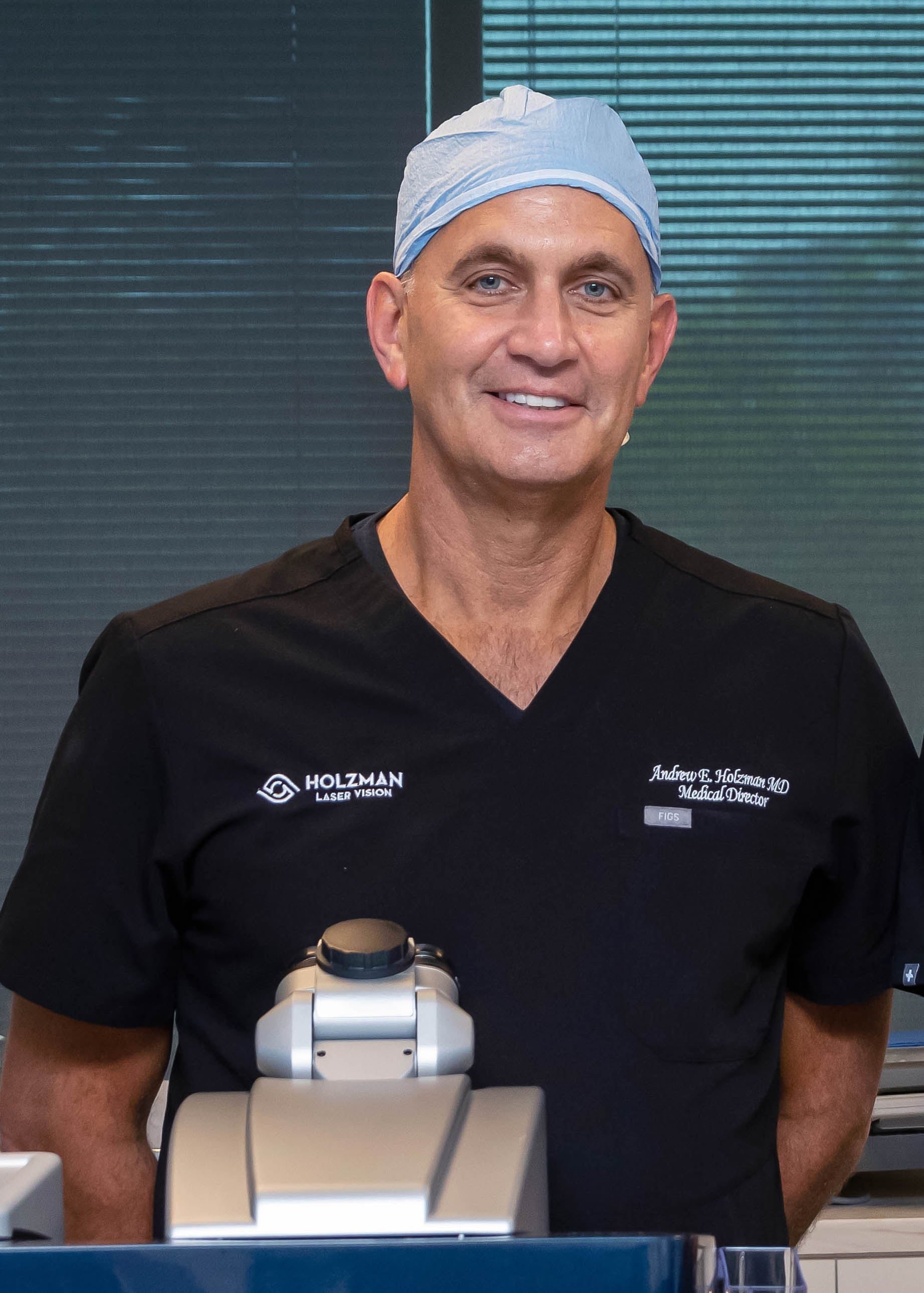 Dr. Andrew Holzman
Andrew E. Holzman, MD, FACS, is one of the most well-respected ophthalmologists in the greater Washington, DC, area. He is regularly sought out by professional athletes, media personalities, and other doctors for laser eye surgery.
Over his career, Dr. Holzman has become a respected leader in the fields of ophthalmology and laser eye surgery. In addition to achieving board-certification and the status of Fellow of the American College of Surgeons, Dr. Holzman has been named a Star Surgeon by VISX, has served as a national trainer and regional instructor for innovative new LASIK technologies, and has been published in several professional journals.
Dr. Holzman is an Associate Professor at University of Virginia and an Assistant Clinical Professor at Georgetown University Medical Center.
Dr. Holzman and his wife, Nancy, have two grown children and have two golden retrievers, Charlie and Tucker. In his spare time, Dr. Holzman enjoys hiking with his dogs, travel, and music.
Dr. Jonathan Solomon
Dr. Jonathan Solomon is a board-certified ophthalmologist specializing in laser cataract and refractive surgery. He is well known for his activity in the ophthalmic academic community, as well as for his spirit and compassion, which extend beyond the surgical theater. Dr. Solomon has been acknowledged by GQ Magazine in their "Men of the Year" issue, recognized nationally as one of the "Top Doctors in America" by his peers, and listed as one of Baltimore-Washington's Super Doctors for 2013.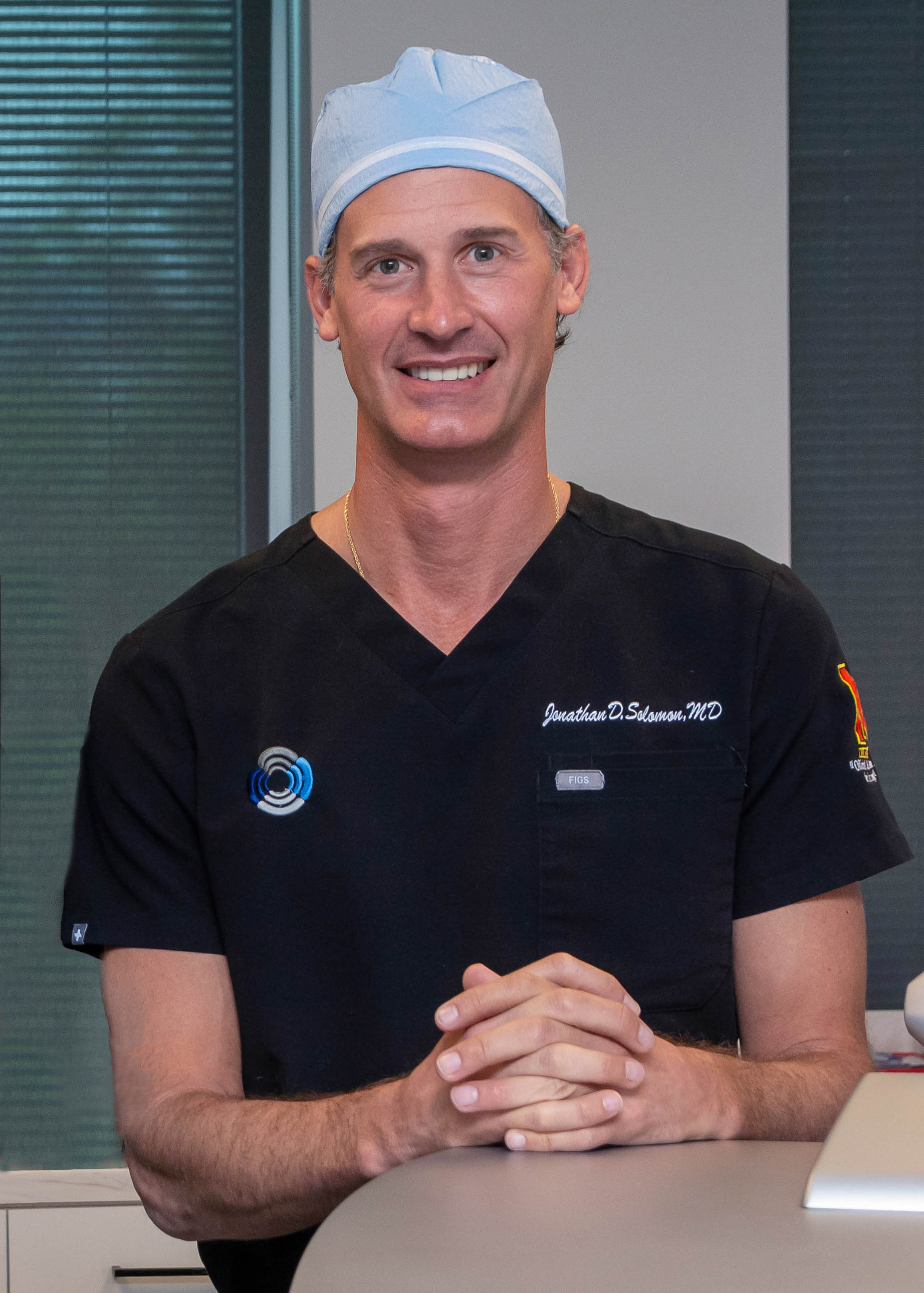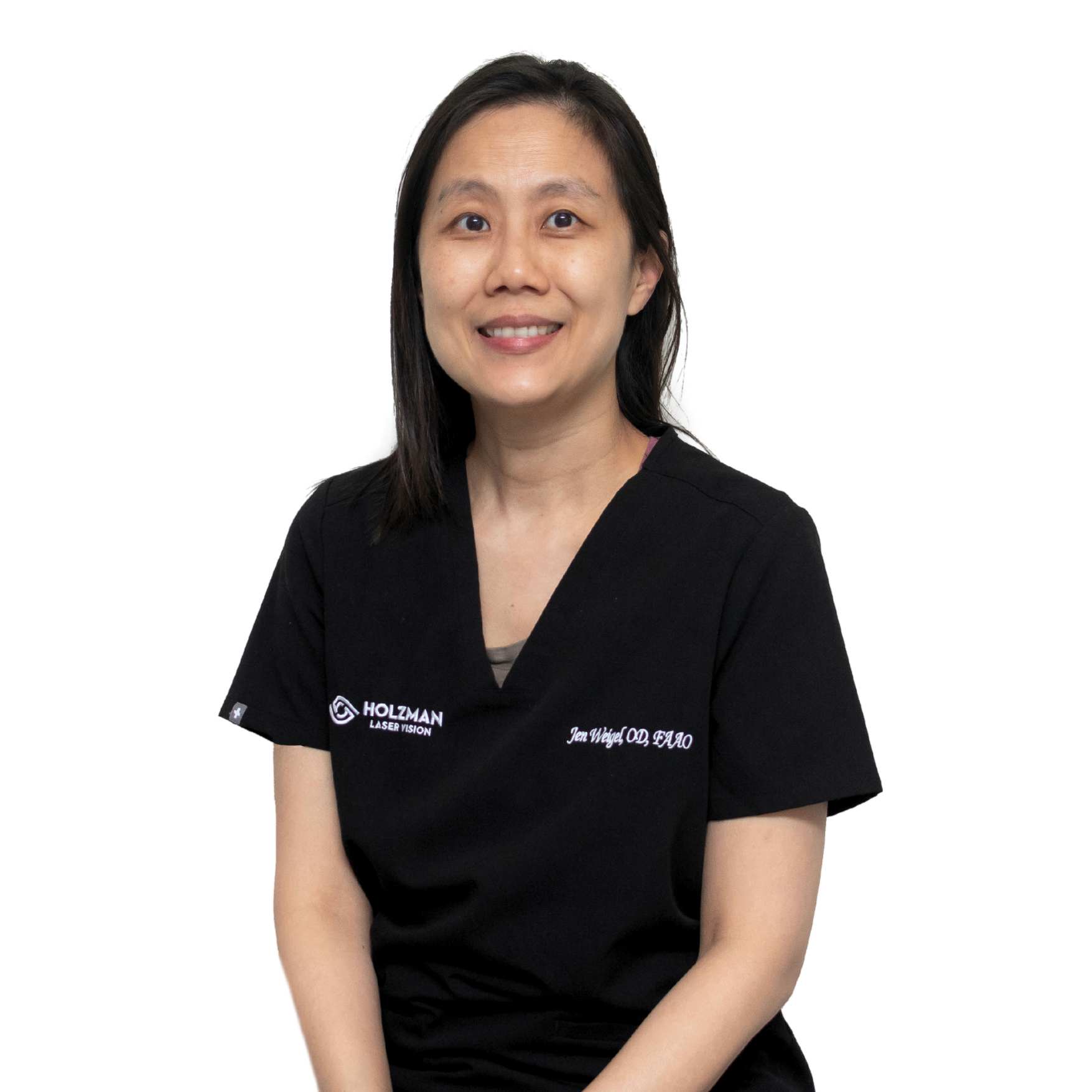 Dr. Jen Weigel – Clinical Director
Dr. Jen Weigel earned a B.A. in Biology from the University of Texas at Austin in 2000 and graduated Cum Laude from the Southern College of Optometry in Memphis, TN, in 2004. She then completed a residency in ocular disease management with Omni Eye Specialists in Denver, CO, in 2005, and then moved to Northern Virginia in 2006. She has practiced in a variety of settings, including a non-profit clinic, private practice, refractive surgery co-management, and consultative optometry. She served as Clinical Director of TLC Laser Eye Center, Tysons for over 9 years with Dr. Holzman before joining Holzman Laser Vision in November 2021. Additionally, Dr. Weigel has been a sub-investigator in clinical trials, including a corneal cross-linking FDA trial with Drs. Solomon and Holzman, and has lectured locally regarding refractive surgery.
Dr. Weigel is a member of the American Optometric Association and the Northern Virginia Optometric Society. Dr. Weigel served as President of the Virginia Optometric Association from 2018-2019, the culmination of eleven years of service on the VOA Board of Trustees. She is the 2019 VOA Optometrist of the Year and the 2011 VOA Vanguard (Young OD) of the Year. Additionally, she is a Fellow in both the American Academy of Optometry and the Virginia Academy of Optometry. She has been an Examiner for the National Board of Examiners in Optometry. She is a two-term Past President of the Kiwanis Club of Manassas and is currently a member of the Kiwanis Club of Tysons Corner/McLean.
In her spare time, Dr. Weigel enjoys cooking, gardening and buying books (but finding time to read them is a different goal). She lives in Fairfax County with her husband Bob, a Professor at George Mason University, and their visually impaired, but still energetic, Dachshund Sergeant, who was happily adopted.
Elizabeth Choi, OD – Clinical Optometrist
Dr. Elizabeth Choi is a Baltimore native who earned her B.S. degree in Neuropsychology from Boston College, and her Doctorate of Optometry from SUNY College of Optometry. She completed her residency at the Baltimore VA Medical Center, which included training at the prestigious Wilmer Eye Institute of Johns Hopkins University. During her residency she was awarded the Gold Pin Award in recognition of excellence in patient care. Dr. Choi has presented academic posters at multiple optometric conferences, presented continuing education to her optometric colleagues, and participated in clinical trial studies. She is a fellow of the American Academy of Optometry, a member of the American Optometric Association, Virginia Optometric Association, and of the Northern Virginia Optometry Society. Dr. Choi is passionate about providing compassionate eye care and working with her patients to achieve all their visual goals. In her free time, she enjoys reading, painting, and scrolling through dogs on Instagram.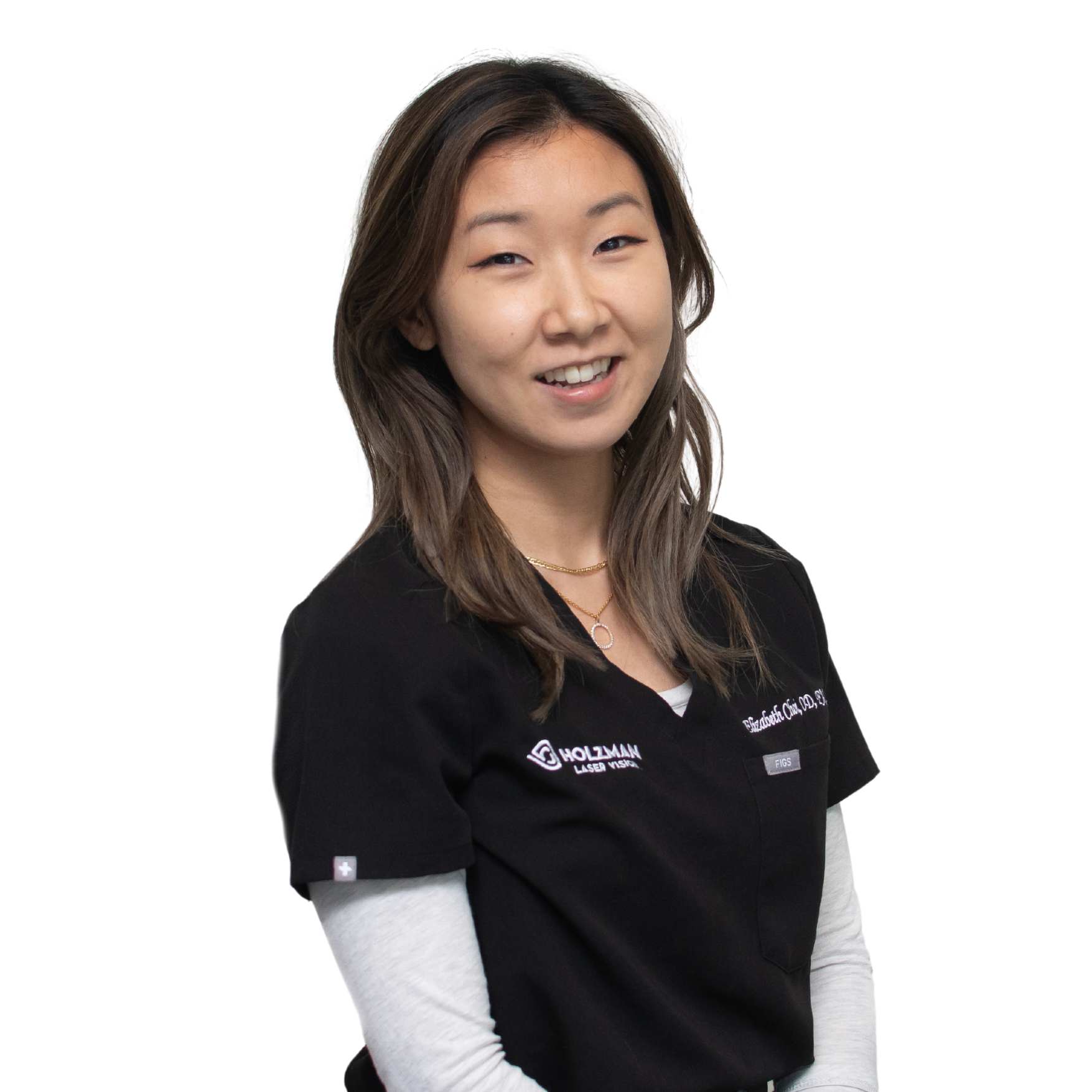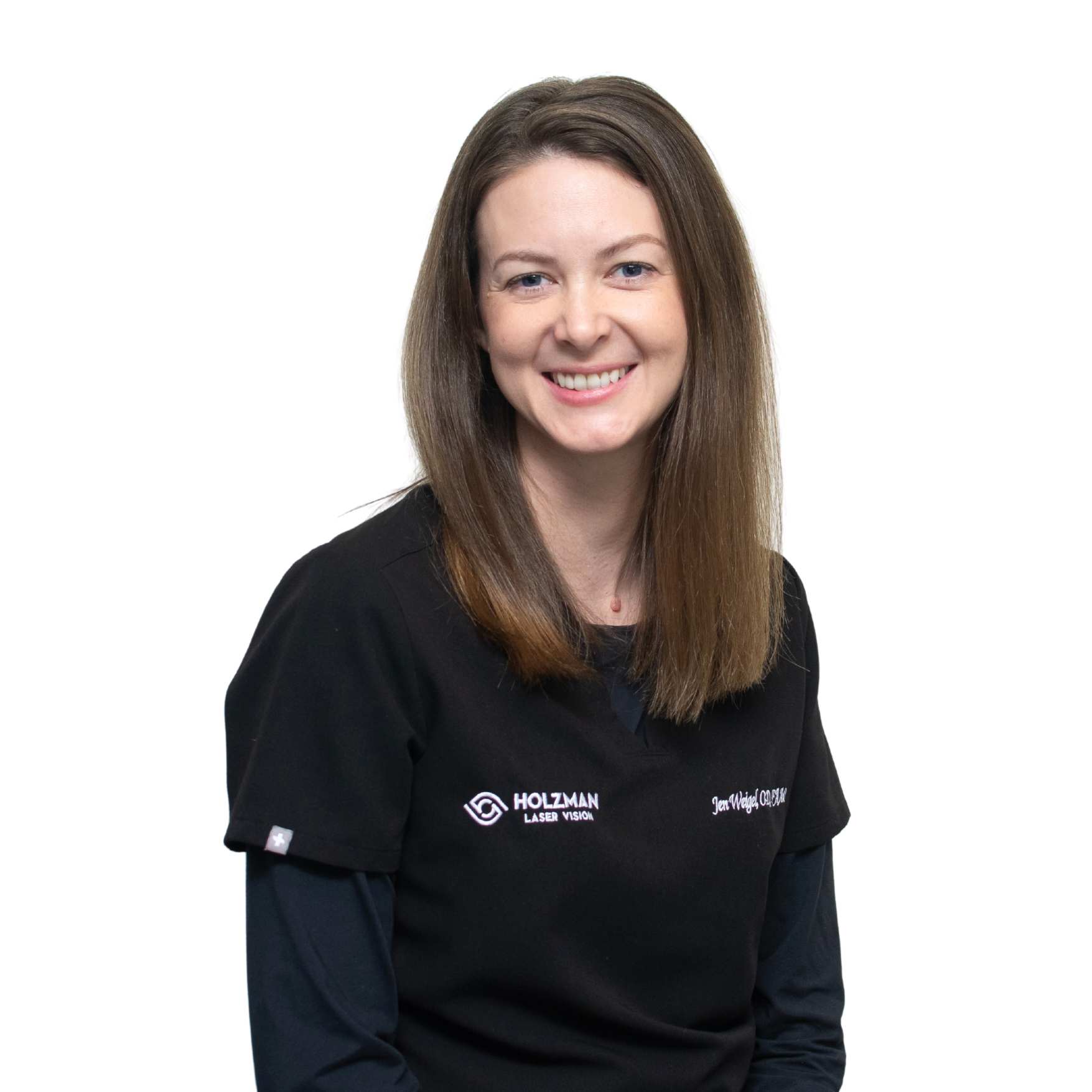 Ann Martin, OD – Clinical Optometrist
Dr. Martin earned her Doctorate of Optometry from Indiana University in 2009. She graduated at the top of her class and was a member of the distinguished Beta Sigma Kappa Honor Society. Dr. Martin loves refractive eye care and providing outstanding service to her patients. She is a member of the American Optometric Association and Virginia Optometric Association. She moved the Washington DC area in 2015 and enjoys spending her free time traveling, hiking, and raising her three children.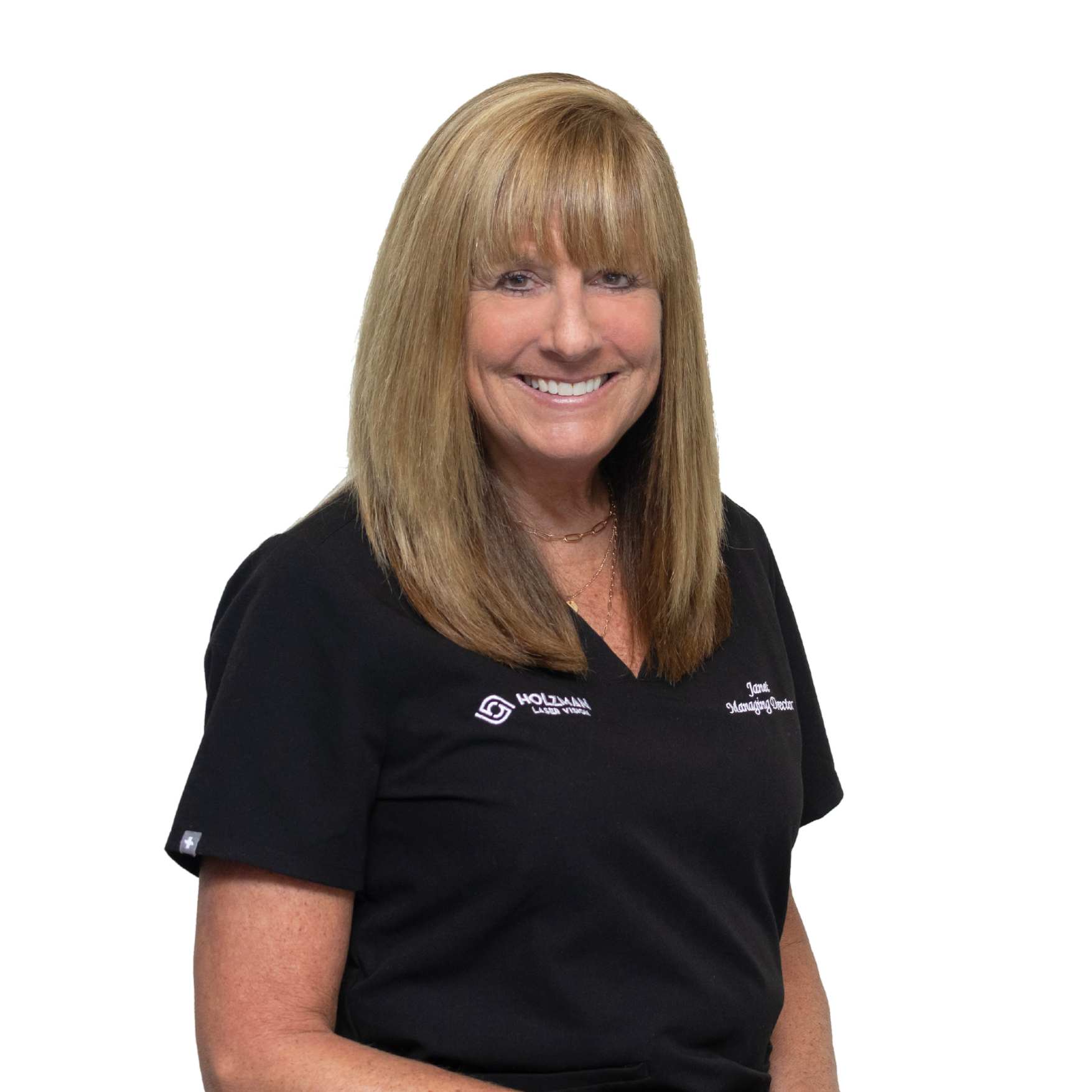 Janet Ward – Managing Director
Janet Ward is an innovative, results oriented administrator with a strong medical and business
background and over 25 years of leadership experience. With degrees in Business
Administration and Nursing, she has served her entire career in managerial roles, developing
creative solutions focused on customer service, and business growth in the healthcare sector.
Her eyecare experience began in 1996, when Janet served as the Regional Manager of the most
successful laser eye care business in all of North America for over 7 years.
In August 2021, Janet joined forces with Dr. Holzman to open Holzman Laser Vision. She had
direct responsibility for hiring, training, and leading the "founding team" and developing all of the systems and operational needs to run the best Refractive Surgery practice in the Virginia/MD/DC area. Janet is very passionate about providing the very best experience to the patients of Holzman Laser Vision and she works tirelessly to ensure the team she supports is always able to be the best it can be.
In her spare time, Janet enjoys spending quality time with her daughter, Sierra, her husband,
Tom and her sweet puggle, Tucker. When time allows, she loves cooking, gardening, reading,
traveling, and taking super long walks.
Alina Baymetova – Professional Relations Consultant
Alina began her journey in the refractive surgery field in 2012 when she met Dr. Holzman and saw how knowledgeable and passionate he was about this field. She enjoyed working with Dr. Holzman for several years before briefly relocating to the magical city of Istanbul. Upon her return, Alina found out about Dr. Holzman's newest quest of opening his own clinic and immediately decided to rejoin his amazing team of professionals at Holzman Laser Vision.
Alina's role as a Professional Relations Consultant gives her the opportunity to manage Dr. Holzman's extensive network of co-managing optometrists. In her free time Alina likes to ride a bike with her daughter Olivia, go on hikes with their dog Hunter and explore the world cuisine with her husband Rudi, by recreating the recipes from their travels.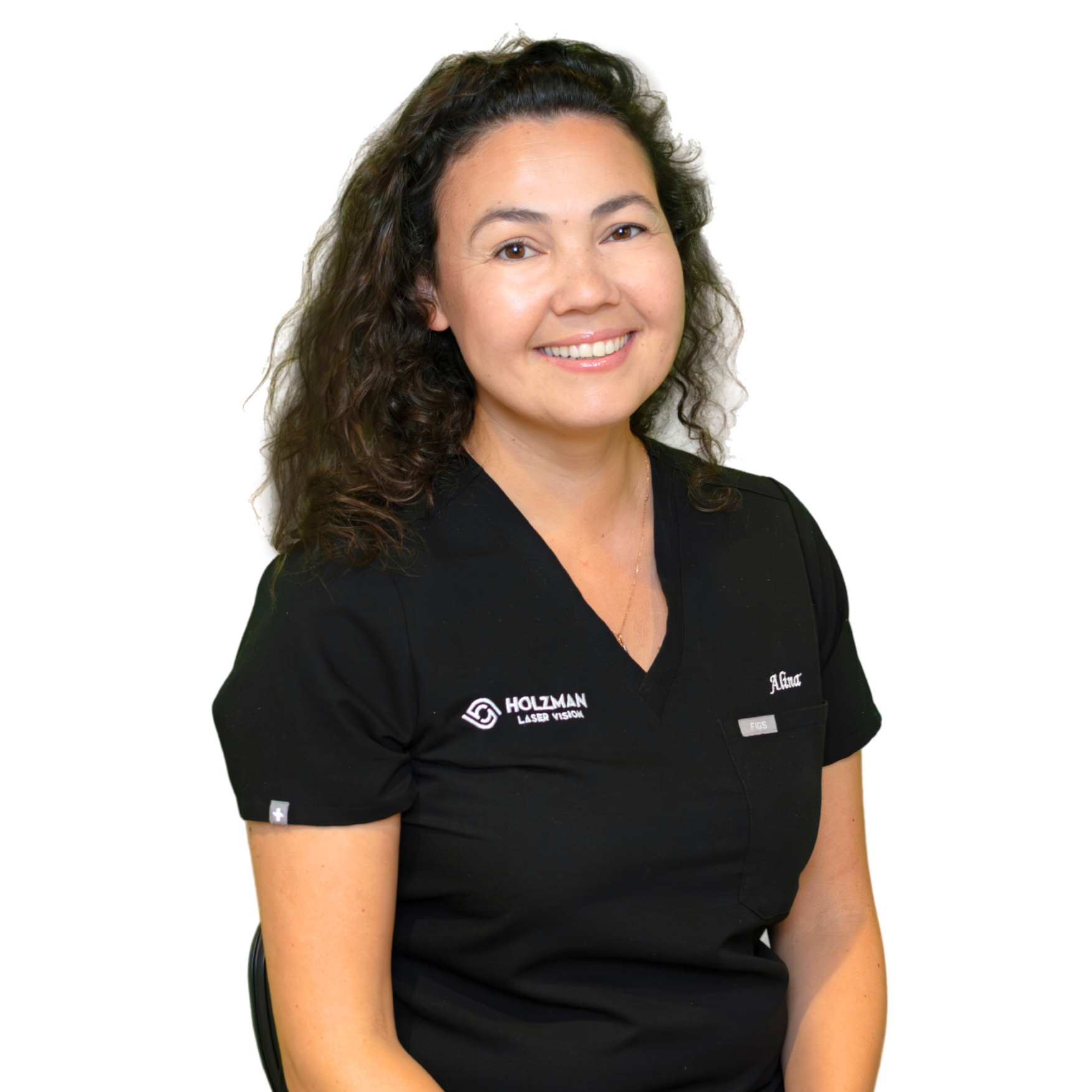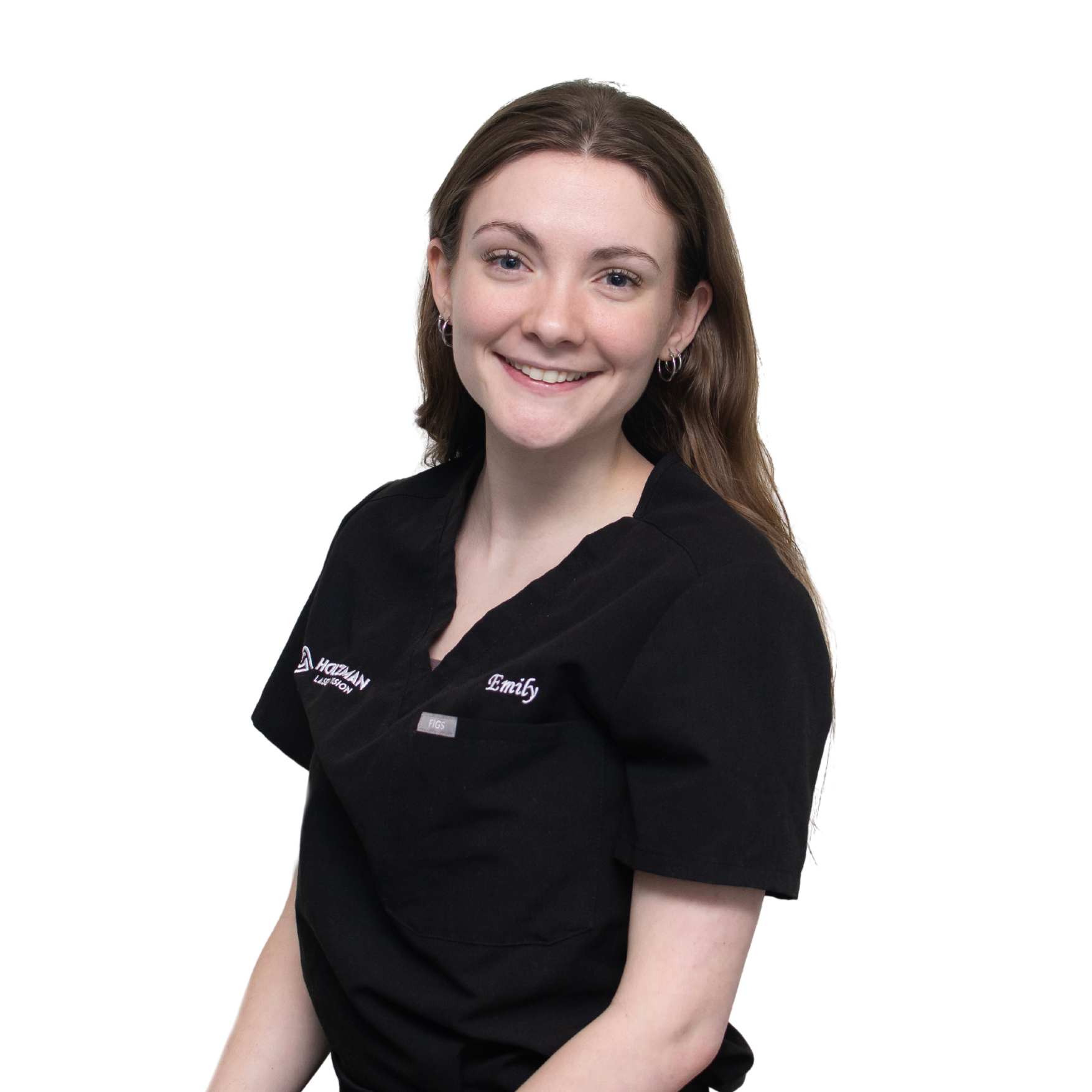 Emily Black – Patient Coordinator
Emily Black was born and raised in Northern Virginia. She graduated with a Bachelor of Fine Arts at Mercyhurst University in Erie, PA. She joined the Holzman Laser Vision team in September of 2022 and she does an amazing job taking excellent care of our patients at our front desk and supporting our team. Her smile and positive energy are an inspiration to all of us! She is looking forward to continuing to learn and grow with HLV! In her free time, she enjoys swapping books with friends, eating root vegetables and playing with her dog, Oats.
Eleni Katsikes – Surgical Technician
Eleni is a Surgical Technician with extensive experience in the optometry field. She has been working with Dr. Holzman since 2007. Eleni is responsible for the surgical and clinical tasks in the office, which she handles with great competence and care. Her warm and friendly demeanor has made her a favorite among both staff and patients. Eleni attended NVCC for two years and obtained her certification as an optometric technician. Her education and experience have equipped her with the knowledge and skills necessary to excel in her role at Holzman Laser Vision. In her free time, Eleni loves to travel and explore new places with her family. She is a mother to two kids and enjoys spending quality time with them. She also has a passion for shopping and organizing, and her exceptional organizational skills have earned her the nickname "The Holzman Laser Vision Organizer." Whether at work or at home, Eleni approaches every task with enthusiasm and a commitment to excellence.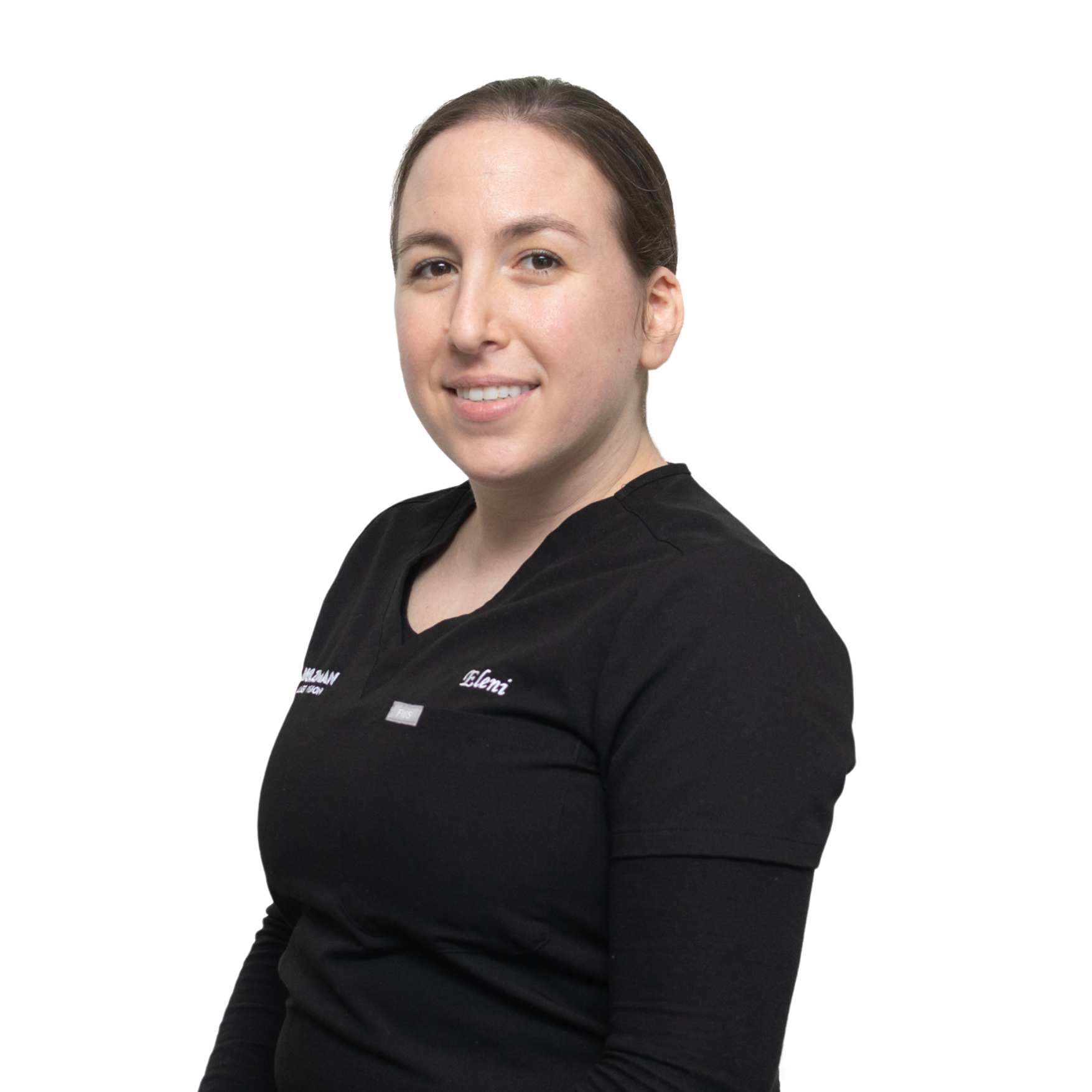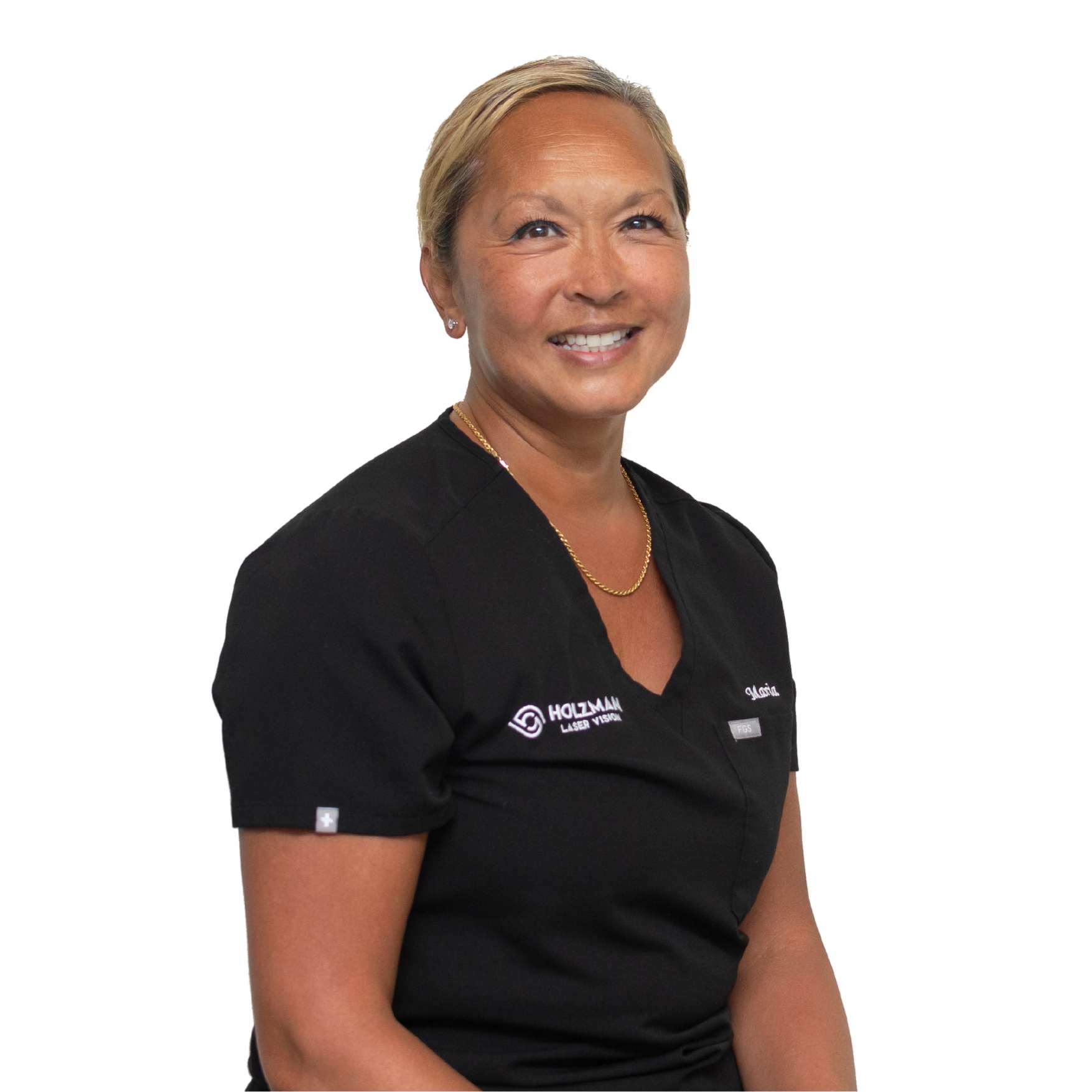 Maria Oettinger – Surgical Technician
Maria Oettinger began her career in the eyecare industry in the mid 80's. In 1999, she had the opportunity to join Dr. Andrew Holzman's team as a clinic and laser technician, focused on providing excellence in laser vision correction, and where she continues today under the Holzman Laser brand. She is certified on all current, modern laser equipment and versed in sterile technique.
Having received LASIK surgery in 2001, she can attest that it is truly a life changing experience.
Livia McALee – Surgical Technician
Livia has been working in the eye care field since 2014. She started at optometry private practices in Texas and Maryland, then started working in refractive surgery on Dr. Holzman's surgical team in 2018. She received her Bachelor's Degree from New Mexico State University, as well as a Diploma of French University Studies in Lyon, France. Livia loves backpacking and boating in the outdoors and has had training as a Wilderness First Responder.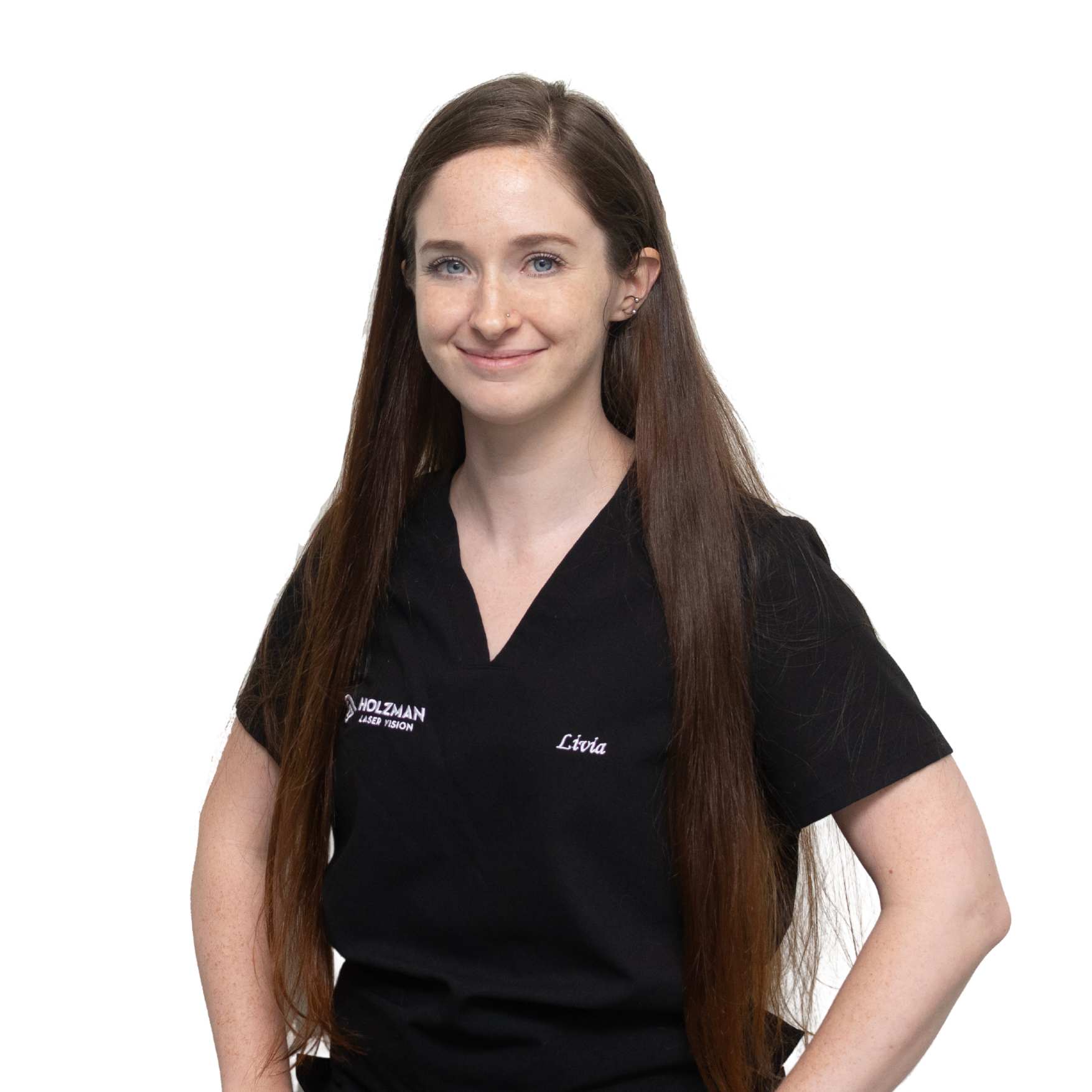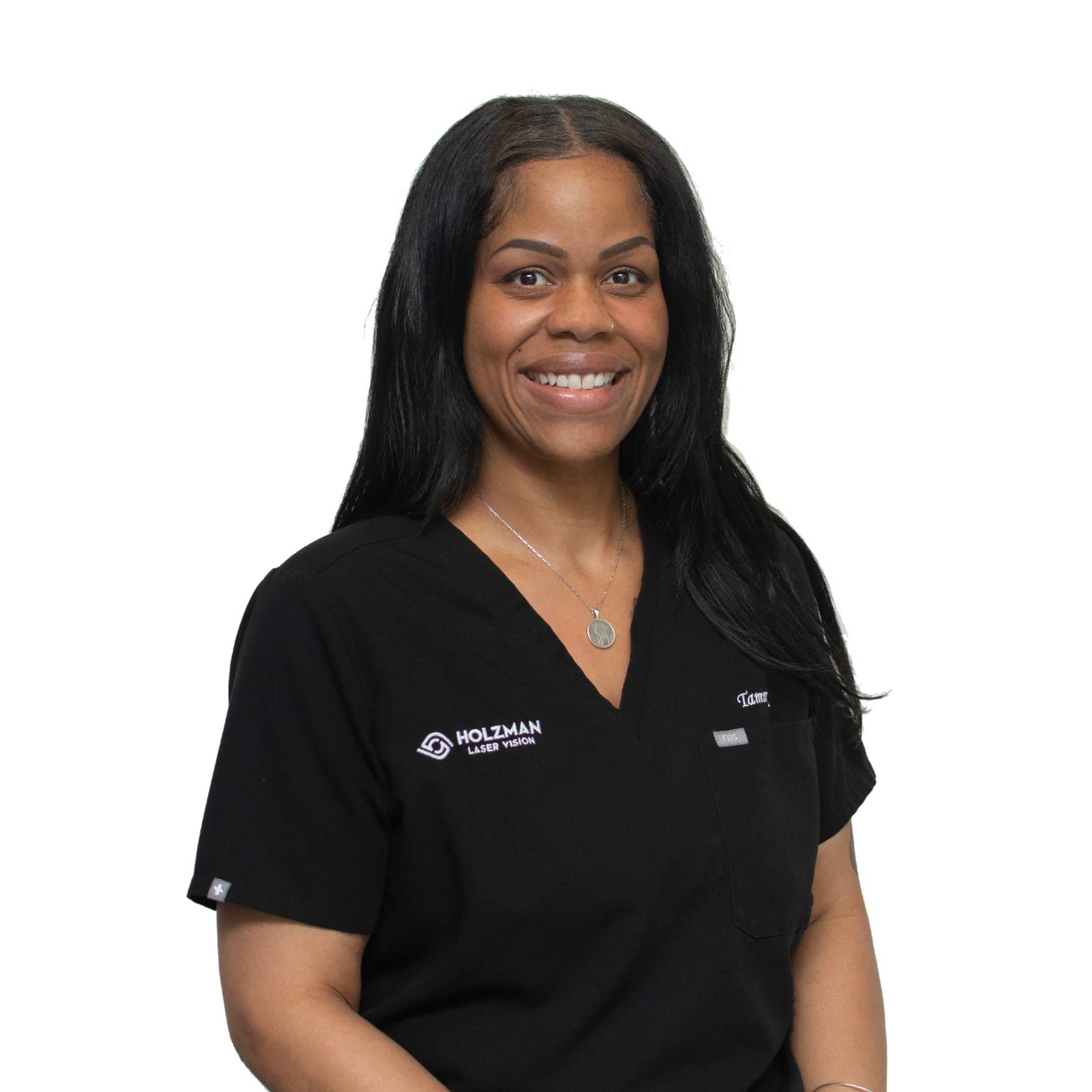 Tammy Callender – Patient Consultant and Professional Relations Consultant
Tammy's journey in the field of ophthalmology began over 26 years ago. The highlight of her career began in 2010 when she joined Dr Andrew Holzman as a surgical consultant. She takes the time to understand each patient's unique needs and provides them with comprehensive information and guidance to make informed decisions about their laser vision correction journey. Her expertise and passion for LASIK has evolved over the last 5 years into her new role as Professional Relations Consultant. As a PRC for Holzman Laser Vision her focus is to cultivate strong relationships in the community with local optometrists. Tammy's exceptional dedication to patient/doctor support, and commitment to advancing the field of LASIK makes her an invaluable asset to the HLV team and a trusted resource for both patients and optometrists. Tammy values a healthy work-life balance and finds joy in spending time with friends and family, her church community, nature and practicing Pilates.
Melissa Morales – Patient Consultant and Surgical Technician
Melissa has over 15 years of experience in the industry and has been working alongside Dr. Holzman for over 7 years. Here at Holzman Laser Vision, Melissa wears many hats, taking on multiple roles to ensure the best patient experience possible.
As a skilled LASIK surgical technician, Melissa assists in surgical procedures. She also excels in her role as a patient consultant, providing personalized guidance to those seeking top-notch care. But when she's not at work, Melissa enjoys a variety of hobbies and activities that keep her energized and refreshed. Melissa has a love for travel and enjoys exploring new places and cultures around the world. She also has a passion for photography and often captures special moments and memories for her patients. When she's not behind the lens, she can often be found in the kitchen cooking up a storm, or out on the water kayaking or swimming. She is also an avid hiker and enjoys exploring local trails and parks. When she's feeling crafty, she likes to get creative and make handmade items like jewelry or home decor. And of course, spending time with her family is always a top priority.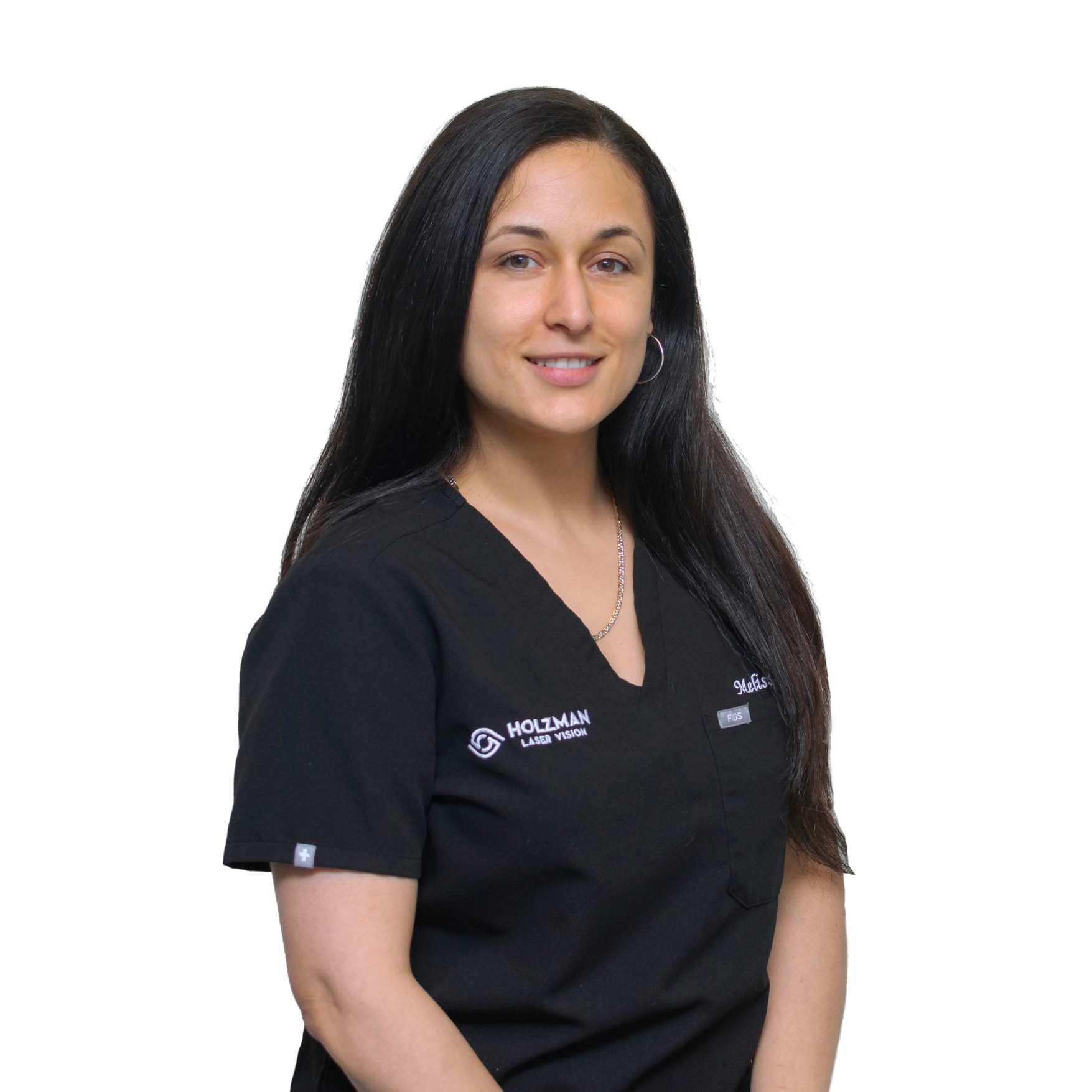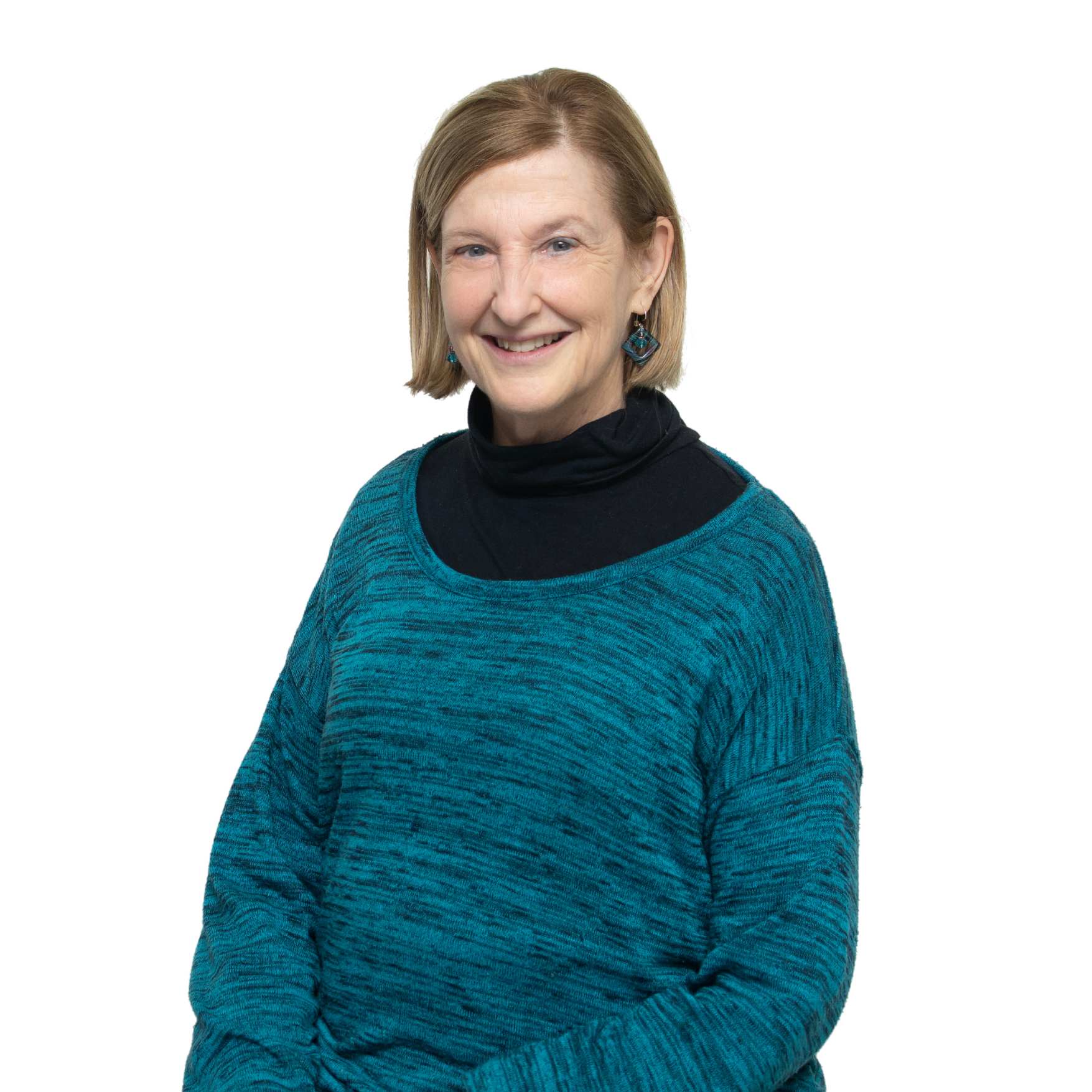 Joan Reich – Administrative Coordinator
Joan has been working with Dr. Holzman for many years in various capacities—in marketing/business development and as a Professional Relations Consultant. Joan is remarkably loyal and dedicated to her job and has basically defined the job for others to follow. Joan currently assists the current PRC, helping to take care of the needs of our referring doctors. This is very important and ensures that the patients' care is highly coordinated between our center and the referring doctors' offices. We certainly owe a great deal of appreciation to Joan as her efforts over the years have helped build the largest and most loyal referral network of doctors in the country!