PRK and LASIK Financing Options Place Clear Vision Comfortably within Your Budget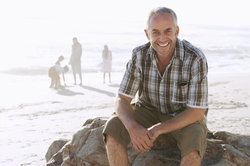 Seeing the world clearly without the help of glasses or contact lenses is an experience many have described as "priceless." When you also consider the high cost of buying eyewear over several years, the cost of laser vision correction procedures such as LASIK is not as great as it might seem at first. Dr. Andrew Holzman is a highly regarded surgeon who has performed more than 90,000 refractive procedures. He believes that everyone should be able to afford laser vision surgery, and to experience the incredible benefits it can provide. That is why Holzman Laser Vision is proud to offer a number of flexible payment plans. We also accept all major credit cards. We want our patients to enjoy their restored vision, and not have to worry about their pocket books. To learn more about PRK and LASIK financing at our Washington, D.C.-area practice, please contact us today and schedule your consultation.
Eye Care Financing Options
Holzman Laser Vision is  committed to helping you receive the quality eye care that you deserve. To place your laser vision procedure easily within your budget, we offer several flexible payment plans, and you can easily apply for them online. We also accept cash, check, money orders, and major credit cards, including Visa, MasterCard, American Express, and Discover. If you prefer, you can arrange financing through the lending institution of your choice.
Our friendly and professional staff is happy to help you determine the best way to finance your procedure, and can also review your insurance to make certain that you are taking full advantage of your benefits. Please be aware that all financing arrangements made through HLV must be finalized at least five business days prior to surgery.
Investing in Yourself
Laser vision correction can dramatically improve your vision in one short surgery. We offer:
After surgery, patients can significantly reduce or completely repurpose their yearly expenditures normally allocated for contact lenses, eyeglasses, and prescription sunglasses. This can amount to hundreds of dollars in savings a year, further justifying the long-term investment in laser vision correction. Laser vision procedures also offer a number of other advantages. Patients can enjoy waking up in the morning without having to immediately reach for their eyewear. You can engage in physical activities like jogging, yoga, or gym workouts without the need to wear cumbersome and distracting eyeglasses. There is simply no substitute for the sensation of viewing the world around you with your own eyes.
Contact Our Practice Today
If you are interested in reducing your need for glasses and contact lenses, we can help you. Our range of financing options can place life-changing PRK or LASIK surgery within your budget. Dr. Holzman has been instrumental in bringing cutting-edge laser vision surgery to the D.C. area, and his expertise can help you live free of corrective eye wear. Don't wait any longer to learn more about how these procedures can help you. If you have questions about our practice, the procedures we offer, and how they can be financed, schedule your consultation with us today.