We Use Advanced Technology to Perform Corneal Topography
Planning which surgery is right for you and how the surgery will be performed are two of the most important factors that determine the success of your vision correction procedure. Because the cornea is responsible for approximately 70 percent of your eyes' focusing power, it plays an important role in designing your surgery. Dr. Andrew Holzman uses the WaveLight® Topolyzer™ VARIO Diagnostic Device to perform corneal topography during vision correction surgery assessments. This 3-D mapping technology allows Dr. Holzman to determine which surgery will most effectively treat your unique case. Your corneal map is also used to design a custom procedure that results in the best possible surgical outcomes. This technology is available at our various practice locations serving Washington, DC, Virginia, and Maryland.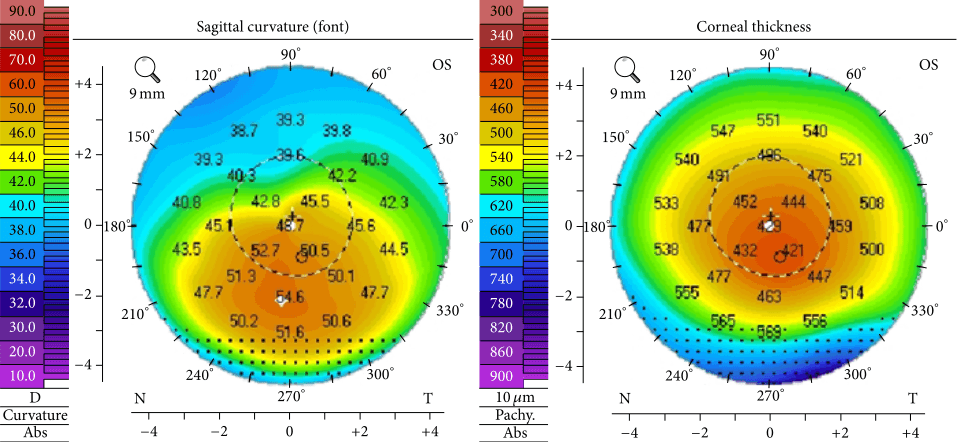 What Is Corneal Topography?
A corneal topography test accurately measures and illustrates several characteristics of your cornea, including steepness and your level of astigmatism. While traditional methods only measured your cornea at a few points, a corneal topography scan enables Dr. Holzman to gather information about hundreds of points in order to build a precise map.
How It Is Used in Our Practice
Dr. Holzman begins planning every surgery with an assessment. He uses corneal topography to plan which vision correction surgery is right for you. In some cases, a corneal topography could reveal that your corneas are too thin, which could disqualify you from LASIK surgery. In this case, Dr. Holzman can discuss the effectiveness of photorefractive keratectomy (PRK).
The corneal topography scan is quick, non-invasive, and painless.
By obtaining a digital, precise 3-D map of your cornea, Dr. Holzman can also identify more vision aberrations than traditional scanning methods. This means that he is able to effectively treat higher order aberrations including severe astigmatism, which would typically disqualify you from undergoing LASIK surgery.
Your 3-D corneal map is then used to direct the laser during treatment. Because the scanner stores all of your scans, Dr. Holzman can also monitor for changes during your pre- and post-operative appointments.
What to Expect During Your Scan
The corneal topography scan is quick, non-invasive, and painless. It can be performed without any contact with your eyes. During your scan, you will be asked to sit in front of the device. Dr. Holzman will shine various illuminated rings from the device onto the surface of your cornea. The light will be reflected back into a camera, and your measurements will be translated into a digital, 3-D map.
The process precisely analyzes thousands of points along your cornea in one quick exam, and most scans can be completed in just minutes.
Experience Our Advanced Technology Firsthand
The best way to determine which vision correction surgery is right for you is to undergo a corneal topography scan. After your assessment, Dr. Holzman can also use this scan to plan your surgery and monitor your progress after the procedure. You can experience this technology firsthand by scheduling a free consultation at our practice. Call us at one of our convenient locations or contact us online to start the process today.