Treat Age-Related Blurry Vision with Prescription Eye Drops
As we age, our vision tends to worsen.  Items up close often become blurry or fuzzy and out of focus.  Unfortunately, this is a completely natural part of growing older, despite it being rather irritating and inconvenient.  The medical term for this age-related blurry near-vision is Presbyopia, and it develops gradually over time, typically after the age of forty.
Fortunately, there is a brand-new FDA approved prescription eye drop called VUITY™ .  The first of its kind medication is specifically formulated to target Presbyopia in adults without using any kind of LASIK, corrective lenses, or surgical procedures.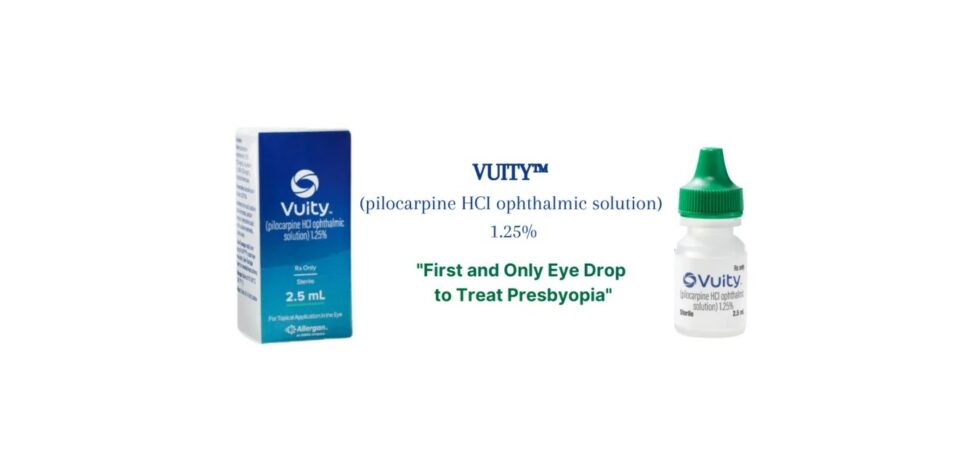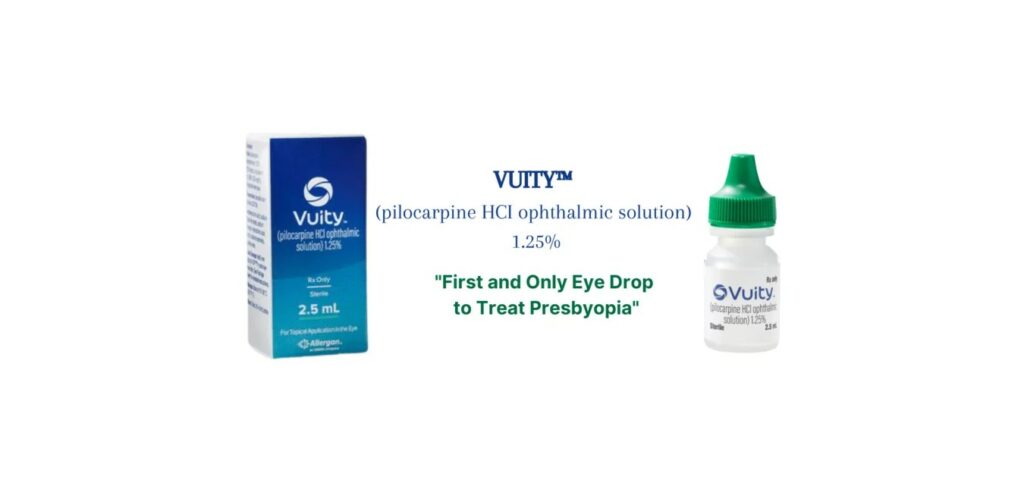 Prescription VUITY™ Eye Drops
Thanks to recent advances in ocular medical technology, Holzman Laser Vision can now offer VUITY™ eye drops to its patients in the Greater Washington, D.C. Region.  Just a single drop in each eye one time per day has been shown to improve vision for patients with Presbyopia, or blurry near-vision related to aging.  The drops can be used in conjunction with contact lenses for those that already wear them as well.  The first and only solution of their kind, the VUITY™ drops work by reducing the size of the pupil, contracting particular eye muscles which assist in close-up vision. 
Do You Have Presbyopia?
Reported to affect about 128 million Americans, Presbyopia is a quite common condition.  Most individuals that experience the age-related near vision blurriness start to notice symptoms around the age of 40.  If you notice yourself needing more light to read, holding menus or newspapers farther away to see more clearly, or squinting your eyes to read up close, these may all be signs that you are experiencing the condition.  Fortunately, Dr. Holzman can evaluate and accurately diagnose your condition in one of several convenient Washington, DC area locations including Chevy Chase, Maryland and McLean, Charlottesville and Chantilly, Virginia.
How to Treat Presbyopia?
Historically, the methods of treatment for Presbyopia have been reading glasses, progressive lenses, bifocals, or contact lenses.  With the introduction of prescription VUITY™ eye drops, there is now a new solution for correcting blurry near vision.  The drops are very versatile, with the ability to be used in conjunction with other eye-drops, contact lenses, or those who have already had Lasik surgery.  
In clinical studies where patients received one drop of VUITY™ in each eye once daily, this was measured by the proportion of patients achieving a 3-line gain or more reading a near vision eye chart without losing more than 1 line in a distance vision eye chart at Day 30, 3 hours after dosing.
 Experience You Can Count On
If you'd like to explore options for correcting your vision, including the new once daily VUITY™ eye drops, schedule a consultation at one of Holzman Laser Center's convenient Washington, D.C. area locations in Chevy Chase, Tysons Corner, or Chantilly.  The clinics were founded by Dr. Andrew E. Holzman, a board-certified ophthalmologist who has performed over 90,000 corrective eye surgeries with outstanding results and widespread acclaim during his nearly three decades in practice. He was the first physician to perform bladeless LASIK over six years ago and has served as an educator throughout the region since its official implementation.
A Patient-First Approach
When it comes to something as important and personal as your vision, finding the right doctor is of paramount importance.  Dr. Holzman and Holzman Laser Vision operate with a patient-first approach, customizing every treatment or procedure to the individual and not applying a one-size-fits-all approach, as every set of eyes is unique.  Whether you are looking for a LASIK doctor, considering PRK or interested in prescription eye drops to treat presbyopia, Holzman Laser Vision can assist.  Their offices use the latest, state-of-the-art technology and surgical tools to ensure that each patient receives the best possible outcome for their vision.
Cost of VUITY™ and Other Procedures
Costs can vary based on what procedure or medications you may need, but Holzman Laser Vision offers flexible payment methods and financing options to make the process as simple and cost-effective for you as possible.  If you are interested in tossing those readers into the trash, call Holzman Laser Vision today!
Are Corrective Drops the Right Solution for Your Presbyopia?
Perhaps you've been afraid of Lasik Surgery or PRK, and are not interested in wearing glasses.  If that's the case, VUITY™ eye drops may be the perfect solution for your age related blurry near vision, allowing you to easily and painlessly improve your vision with a simple drop in each eye.
To schedule a consultation with Dr. Holzman and Holzman Laser Vision call our office at (855) 99-LASIK or schedule your free consultation online.  If VUITY™ prescription eye drops are not the right solution for your problem, Dr. Holzman and his team of DC area professionals are leaders in vision correction and can discuss a variety of laser vision correction options with you, including MonoVision Laser Correction and Bladeless Lasik.  All procedures are done in one of Holzman Laser Vision's convenient Washington, DC Area locations in Chevy Chase, MD, Chantilly, VA, Charlottesville, VA or Tysons Corner, VA.