Testimonials from Doctors
At Holzman Laser Vision in the Washington DC Metro area where Dr. Andrew Holzman is located, our patients come first. We customize each treatment to the specific needs of the individual and are committed to helping you achieve your vision correction goals. The testimonials below are from some of our satisfied patients who have already enjoyed the benefits of LASIK surgery in Maryland, Virginia, and Washington, DC at our facility, and the personalized care from experienced, dedicated vision correction professionals.
"It's Amazing."

Dr. Glenn's Story
As an optometrist, Dr. Donna Glenn understands the value of exceptional eye care. In this presbyopia treatment testimonial, she discusses her treatment by Dr. Andrew E. Holzman. She now recommends his services to others.

After many years of co- managing LASIK vision correction patients with several surgeons, Dr. Andrew Holzman stood out among the rest as the best surgeon I felt comfortable with. From the beginning I noticed the difference. Whenever I needed to consult with him about a patient, he returned my call the same day. He also kept me informed on the latest development in LASIK . He always called the patient the evening after surgery to check on them and seemed to be very caring. He doesn't hesitate to reject any patient who is not a good candidate for LASIK . He performed my LASIK surgery as well as several family members and many of my patients. I trust him that much. I feel very comfortable referring my patients to Dr. Holzman.
– Dr. Khalil
5 years ago I was a contact lens wearer with the additional need for reading glasses to improve my near vision. After attending multiple seminars and observing first hand how Dr. Holzman carefully handles each patient through a LASIK procedure, I decided to trust my eyes with his surgical experience and skills. I couldn't be happier with my decision to do this. Dr Holzman was able to improve my range of vision at both near and far. It is an easy decision for me to recommend Dr Holzman for my laser vision patients.
– Dr. Ender A. Adam

I trust my patients' vision to Dr. Holzman because of his excellent results and patient care.
-Dr Robert Sparrenberger
Vice President Northern Virginia Optometric Society
"I Always Feel Like I'm In Very, Very Good Hands When I Refer My Patients."

Dr. Jones' Peer Testimonial
It is essential that your optometrist and surgeon can work together to ensure that you are receiving the best treatment. Dr. LaMia Jones frequently works with Dr. Andrew E. Holzman to ensure that her patients are provided with high-quality comprehensive eye care. Dr. Jones is proud to work with Dr. Holzman and refer patients to him.

I could not be more happier for what Dr. Holzman has done for my eye sight. Being very nearsighted all my life, he has allowed me to experience the essence of perfect vision.
– Dr Thanh Yang

My eye care practice is located in the community where I live. Over the years, friends, neighbors and other people I meet on a day- to -day basis have become my patients. When I make recommendations for my patients, it is always with the view of protecting and preserving their vision for a lifetime. Over the years that philosophy has made my patients my friends, and my friends my patients. It is important that the surgeons I recommend share the view that the decisions we help patients make are as safe as possible for the short term and the long term. Dr. Andy Holzman is that kind of surgeon. That's why he not only performs refractive surgery for my patients; he also performed Lasik surgery for my daughter!
– Ally Stoeger OD
Virginia Eyecare Center, Doctors of Optometry PC
President of Consulting With Vision LLC
"They're Going To Do The Best Job."

Dr. Smithson's Peer Testimonial
Dr. Keith Smithson is an established optometrist who frequently refers his patients to LASIK doctor Andrew E. Holzman. He highly recommends him for laser eye surgery procedures. Dr. Holzman and his team are dedicated to working with your optometrist to ensure that you receive the best possible treatment for your condition.
For approximately ten years I have been recommending Dr. Holzman for all of my patients who are interested in refractive surgery. He has proven to be a superior surgeon with a terrific bedside manner. Last year when my son was ready for LASIK vision correction there was never a question about who to choose. My son had excellent results and was thrilled with Dr. Holzman and his very sharp vision without eyeglasses or contact lenses.
-David M. Goldberg, OD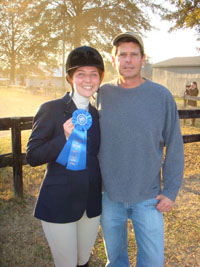 I have been sending my patients to Laser Vision centers and surgeons for over 15 years. The results and patient satisfaction with Dr. Holzman made it an easy decision when my own daughter decided to have LASIK. The years of seeing the post-op results and amazing surgical skill that Dr. Holzman provides, with the state of the art technology available to him at his center continues to give me the confidence to put my patients and family in his hands. If only he were a better golfer, he would be perfect.
-Richard A Jablonski OD
Past president Battlefield Optometric Association
Thousands of people trust me to look at their eyes every year and I trusted Dr. Holzman to take care of mine. I had an amazing experience with my laser eye procedure and appreciate the results every day. I would not have changed a thing about my entire experience with Dr. Holzman.
– Dr. Keith Smithson
Team Optometrist- Washington Wizards, Washington Nationals, DC United Reston, VA

"Vision, I believe, is the most important of the 5 senses and helping people see at their best is why I became an optometrist. For over ten years, one of the best things I have done for my patients is to refer them to Dr. Holzman. He combines his talented surgical skills with the most advanced technology to not only provide the safest results, but the most accurate as well. And the day after their procedure, I have the pleasure of seeing my patients smile like they never have before. Hands down, Dr. Holzman is THE surgeon I have trusted, and continue to trust, to provide excellence in laser vision correction to my patients, friends and family. "Enjoy your new eyes" courtesy of Dr. Andrew Holzman."
-Hieu Vu-Gia, OD
Associates In Eyecare, Oakton
For years we have been co managing our refractive surgery patients with Dr. Holzman. He goes above and beyond in attention to detail. His skills, professionalism and number of procedures performed put him in an elite group of top lasik surgeons nationally and we feel lucky to have him in the region. Dr. Holzman has operated on friends and family members of the doctors and staff of our office, with outstanding results.
– Alan N. Glazier, OD, FAAO
Founder/CEO
Shady Grove Eye and Vision Care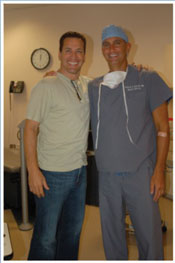 Dear Doctors, I am happy to report I recently had LASIK performed on my eyes by Dr. Andrew Holzman in Tysons Corner. I decided to do LASIK as I was tired of mild hyperopia/presbyopia, and I couldn't wear contact lenses because of dry eyes. I had a great experience with Dr. Holzman. I am now two days post op and seeing 20/20 + . I can read without correction. The whole process was awesome.
Please use Dr. Andy Holzman as your preferred provider for your LASIK needs. We can trust that he will take great care of all your patients. He is truly very professional and I am very happy.
– Dr. Robert Samit O.D.
CEO, My Eye Dr.
"It's hard to believe that it has been over 9 years since Dr. Holzman did my LASIK, and my results have been nothing short of amazing. In fact not only did I trust Dr. Holzman with my eyes, so did my father as well as my wife who is also an optometrist. When patient's ask me who I recommend for their LASIK, it is pretty obvious who I trust."
– Dr. Paul Colbourne
Optometrist

After many years of watching satisfied patients come back after laser vision correction from Dr. Holzman with excellent vision and clear healthy eyes, I finally decided to treat myself to the same care. In October, 2008 I went from not being able to leave my bed without glasses or contact lenses on to hardly needing any correction at all – and it happened all in one day! Thank you Dr. Holzman! I will be forever grateful!
– Dr. Margaret Placentra Johnston
Optometrist
After wearing glasses and contact lenses since the second grade, the thought of great vision without eyewear or contact lenses was extremely appealing to me. As an eye doctor, I can appreciate the expertise and judgement of a skilled refractive surgeon, and Andy Holzman is an outstanding refractive surgeon. Almost 10 years ago I underwent LASIK, and everyday I appreciate and enjoy the quality of vision that started with a visit to Andy. Two years ago my son, Chris, the medical student, had surgery and enjoys "no glasses, no contacts" and is loving life without glasses or contacts thanks to Andy.
– GFBrown OD
President-Elect of the Virginia Optometric Association
Past president of the Northern Virginia Optometric Society

Hello, my name is Dr. Monica Bishop. As an optometrist, I have the knowledge and clinical experience to determine who are the "good" corneal surgeons and who are the "best" corneal surgeons in our area. Dr. Andrew Holzman is simply the best! I have been referring my patients to him over the past ten years. In March of 2009, I chose Dr. Holzman's caring hands to perform my laser vision correction. It is amazing to wake up every morning and see clearly without eyeglasses or contact lenses. I am eternally grateful to Dr. Holzman for giving me the gift of clear sight!
Sincerely,
Monica Bishop, O.D.

"I am ecstatic and thrilled! I am a doctor, and was almost giddy seeing my patients this morning!"
– Dr. Mark Ravpp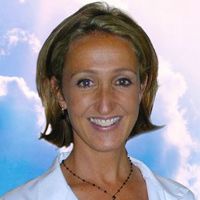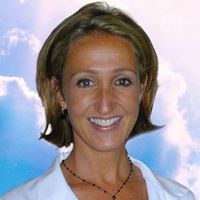 Dr. Holzman is by far the most talented surgeon with the best resuts in the entire DC, MD, VA area.
~ Dr. Tiffany Lione
Associates In Eyecare, Optometrists, PC
Sonte Ridge, VA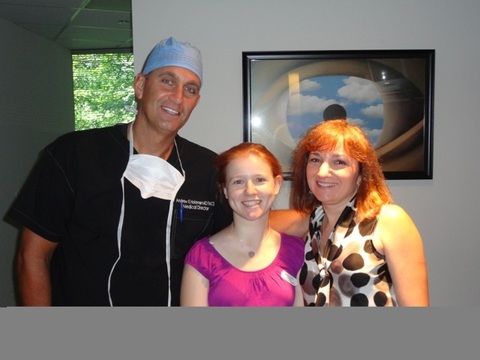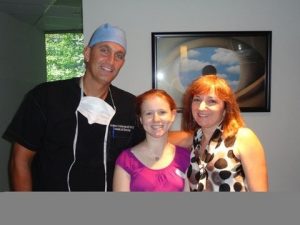 Dr. Holzman with Dr. Gabriela Miller and her daughter Becky after Becky's Lasik surgery.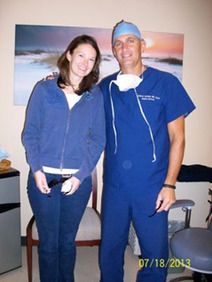 "My experience undergoing LASIK surgery with Dr. Andrew Holzman was fantastic. The entire staff is wonderful, particularly Dr. Jen Weigel, who was a huge help leading up to my surgery. I am a local optometrist and perform pre and post-operative care for my refractive surgery patients. After seeing how thrilled all of my patients have been with their experience, how healthy their eyes are, and how well they see after surgery, I felt 100% confident in my decision to pursue refractive surgery with Dr. Holzman. I am now 2 weeks out from surgery seeing 20/15 and my eyes feel great. Dr. Holzman are extraordinary and I wouldn't have trusted my eyes with anyone else."
– Courtney Shay, OD