At the Holzman Laser Vision centers in Tysons Corner, where Dr. Andrew Holzman is located, our patients come first. We customize each treatment to the specific needs of the individual and are committed to helping you achieve your vision correction goals. The testimonials below are from some of our satisfied patients who have already enjoyed the benefits of LASIK surgery in Maryland, Virginia, and Washington, DC at our facility, and the personalized care from experienced, dedicated vision correction professionals.
"It's The Coolest Thing Ever."
Sarah discusses the many LASIK benefits she is now experiencing. She says Dr. Holzman helped her feel comfortable during treatment, which took about 15 minutes total. She experienced an immediate improvement in her vision.
Dr. Holzman with Washington Redskins Quarterback Kirk Cousins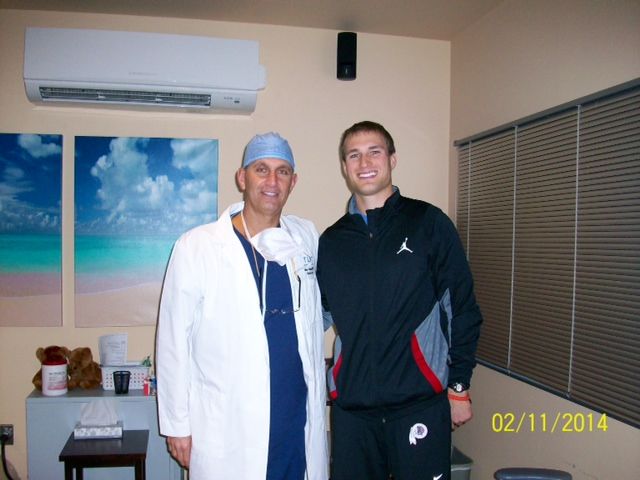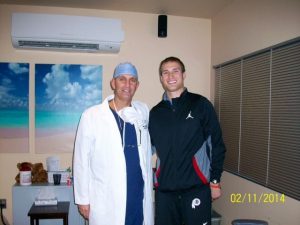 "My name is Kirk Cousins, quarterback for the Washington Redskins and I'm a patient of Dr. Holzman's. I had LASIK surgery a couple weeks ago and I'm happy to say that I'm seeing better than 20/20. I wake up in the morning and don't have to put contacts in. I don't have to put glasses on. I can go through my whole day seeing great. It's going to really help me, not only just in daily life, but, more importantly, on the football field being able to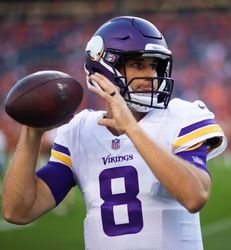 become the best football player I can be and hopefully play football in the NFL for a very long time. So I'm very grateful to Dr. Holzman. They did an outstanding job with me and my fiancée and we're both seeing great. Thank you."
Andrew R Testimonial
Holzman Laser Vision is the place to go if you're looking to get Lasik or PRK eye surgery!!!!
For those that do not know, they do free consultations for the surgery so if you're thinking about getting it, call them up and schedule an appointment to 'see' what happens. Now let's talk about my experience. I've been in contacts and glasses for about 15+ years. I only wear my glasses on the rare occasions that I wanted to look extra studious, right before bed or in the event the contacts were just bothering me during the day while I used it. Basically, I've been in them for about half of my life, being 31 years of age.
Now the reasons why I waited this long was just like anything regarding technology/medicine, it's always best to wait as there are new developments and advancements. That….. with the additional comments my eye doctor would say that I "should wait till my vision stabilizes". And let's be honest, while that is true – there are also those who would keep you from getting Lasik or PRK surgery so that you keep getting glasses, contacts and the annual check-ups with them because that is their "bread and butter". I finally decided to just go in for a free consult for a few reasons:
primarily my job, as a first responder (firefighter) now I was tired of sleeping in my contacts to wake up in the middle of the night having them dry and bothersome during the calls.
My brother had his done at this very place in 2009 and still is seeing great, no issues and continues to be doing great with Lasik,
it was time to put down the hassle of ordering contacts each year and feeling like the contacts never lasted the full year.
So I came here. Tysons Corner because of their reputation. Not only has famous celebrities been through here, but after asking around Northern Virginia and the county that I work in as a firefighter, multiple people have come through Tyson's Corner HLV and recommended it. Dr. Andrew Holzman has been doing this also for so long that this is definitely HIS THING. So even though I lived 45minutes away from this location with other locations available to me in the HLV LASIK name, I drove here to go see the one everyone recommended and I was NOT let down.
As I am Post-Lasik Surgery for about two weeks now, seeing really well! Was seeing 20/400 prior to surgery and now 20/15!!! (NOTE: everyone is different and all results will NOT be the same and there are no guarantees but I will say that if you're going for better vision and you're planning to do this…. this is the place). I have been through it and just very pleased and excited to continue life free from glasses and contacts completely!!
I'm giving them 5 stars because the whole experience was phenomenal.
Everyone in that office is incredibly nice and very sweet. They are all working there and giving people one of the best gifts you can purchase for yourself and that is better sight! Everyone was extremely courteous and professional. The Doctors are great and very good in their practice which gave me confidence in this office. They were extremely knowledgeable and answered any and all questions I had.
Dr. Holzman was my surgeon. And yes! He was incredible. He was calm and you just know he knows what he's doing. How smooth the procedure really depends on YOU, as the patient. He does his best to keep you calm, it's just a matter of you keeping yourself calm and going through it. And then he goes to work and gosh is it amazing how 'quick' it is. I can go on and on about this… because it truly was an amazing gift to myself.
Many thanks to the staff here for the wonderful work they did from start to finish… and continue to do post-surgery as I will continue to see them for follow-ups. This office is the place to go. If you have any questions, feel free to message me. If you have any doubts, just go in and see what they say. Let their doctors evaluate you and let you know whether you're a great candidate for the procedure. Go in there with an open mind and if there are a lot of people in there…. be understanding and patient as it is an incredible procedure that I understand why there would be so many people lined up for this!
"PRK Surgery Has Changed My Life."
For many patients like Rachel who have thin corneas, PRK is typically recommended over LASIK. In this PRK testimonial, she says Dr. Holzman's treatment has given her greater freedom and dramatically improved vision. She now looks forward to experiencing upcoming life events with far greater clarity.
Dr. Holzman with MLB catcher, Wilson Ramos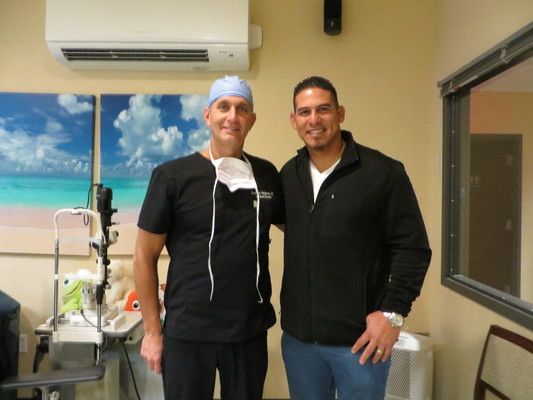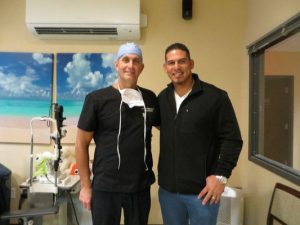 Ramos had been prescribed contact lenses to improve his vision, but he had trouble putting them in and dealing with the discomfort of wearing them. As a result, the team sent him back to DC from spring training so he could undergo LASIK with Dr. Holzman. Now that Ramos has undergone LASIK, he doesn't have to worry about irritated eyes or less-than-optimal vision.
"We decided it was better [to have it] now than later," Nationals manager Dusty Baker said. He then jokingly added, "He will be able to hit now."
Wilson Ramos' hitting has improved in the beginning of the 2016 season causing him to be highlighted by MLB.com with a video and an article about it.
Dr. Andrew Holzman and Professional MLB Pitcher Craig Stammen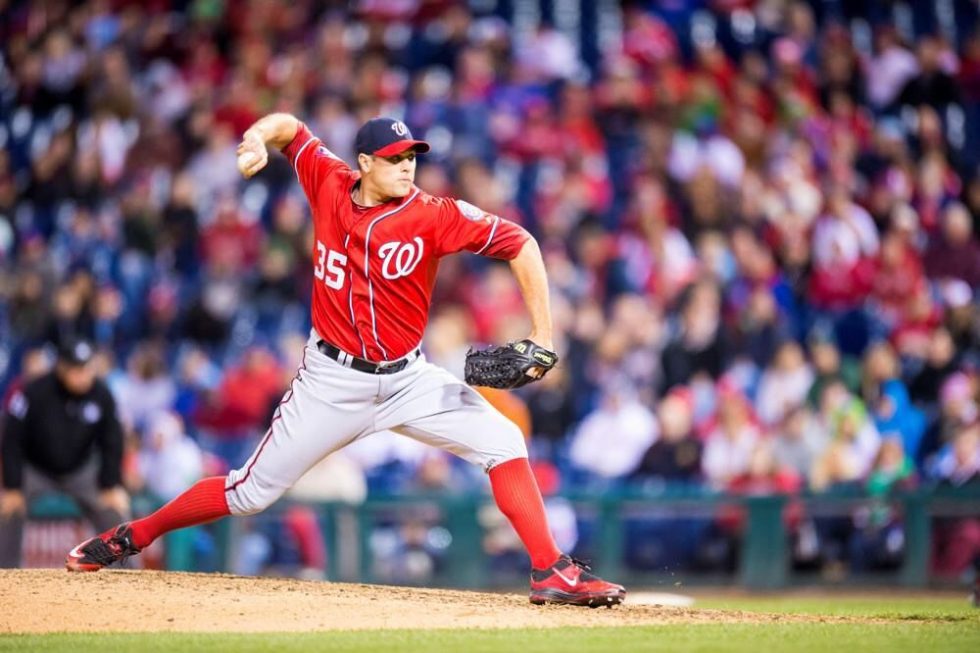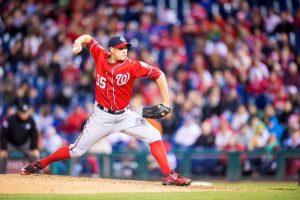 The group took exceptional care of me throughout the process of determining what eye surgery was best for me. Dr. Holzman performed PRK on my eyes and the results have been life changing. My "new eyes" will give me and edge on the field and it will continue to improve my day to day life! The fact that I can see more clearer and sharper than ever doesn't even compare to the kindness, joy, and overall happiness with which I was taken care of by everyone.
Dr. Andrew Holzman and Professional MLB Pitcher John Lannan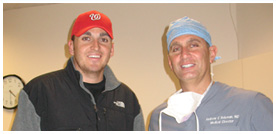 I was referred to Dr Holzman by the Washington Nationals' team eye doctor, Dr. Smithson. I definitely wanted the best surgeon who would be very careful and make sure everything was perfect. Dr Holzman came very highly recommended. I felt totally comfortable through the entire process as Dr Holzman's confidence and skill let me easily relax. It was incredibly easy. My eyesight is 20/15 now and I can't believe how much better I can see than before surgery. This was a GREAT decision for me and I am really looking forward to the up-coming baseball season with my new eyesight.
– John Lannan
Washington Nationals
"It's Amazing."

Dr. Glenn's Story
As an optometrist, Dr. Donna Glenn understands the value of exceptional eye care. In this presbyopia treatment testimonial, she discusses her treatment by Dr. Andrew E. Holzman. She now recommends his services to others.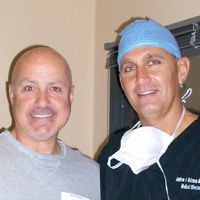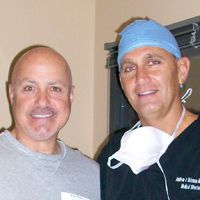 Dear Andy: Please accept my appreciation for the outstanding care I received. You and your thorough staff made very effort to ensure my comfort during the Lasik procedure which was, indeed, painless. I was especially pleased that the recovery was so easy and quick. Most importantly, the Lasik procedure was a great success and my contact are a thing of the past. Thank you for your expert care.
– Michael Rizzo
General Manager, Washington Nationals
"They're Going To Do The Best Job."

Dr. Smithson's Peer Testimonial
Dr. Keith Smithson is an established optometrist who frequently refers his patients to LASIK doctor Andrew E. Holzman. He highly recommends him for laser eye surgery procedures. Dr. Holzman and his team are dedicated to working with your optometrist to ensure that you receive the best possible treatment for your condition.
Dr. Andrew Holzman with Major League Soccer Star Alecko Eskandarian of LA Galaxy.

Dr. Holzman, I just want to thank you and your staff for taking great care of me when I recently had LASIK surgery at your office. As a pro soccer player, my vision is extremely important and directly affects my performance on the field. Just like anyone else, I had questions about LASIK surgery and made sure I did my research before choosing to go forward with it. After wearing contact lenses and glasses for most of my life, I decided LASIK was the best option and have to admit the results have been fantastic. I am able to see clearer than ever before and haven't had to worry about the frustrations of managing my contact lenses. This has helped improve my quality of life in that I no longer have had to worry about my eyesight, both on and off the field. Thank you!
– Alecko Eskandarian
LA Galaxy
Testimonial of Commercial Airline Pilot and Author David Webb
After all my eyes have been through, I consider Lasik to truly be a miracle. So, what have my eyes been through? Well, first of all, I should mention that I am a commercial pilot and, previously, an Air Force pilot. Eyes have always been considered one of a pilot's most valuable assets. Having good vision has been a concern of mine since the time I entered the Air Force Academy 30 years ago. In my quest to improve my vision so as to ensure my eyes would meet Air Force standards and, later, airline standards, I tried every trick available:
A. Books on vision that actually recommended staring directly at the sun (the authors must have owned stock in seeing-eye dogs).
B. Orthokeratology, which are hard contact lenses designed to forcibly, and painfully, flatten the eyeball to the correct shape. Caution: insanity may be a side-effect.
C. Eye exercises designed by a "doctor" who wore trifocals herself. Any irony there? I think her degree may have been "Witchdoctor" from the University of Hogwarts.
Hard as I tried and enduring great pain and/or expense, none of these attempts resulted in any true improvement in my vision. Then, I heard about Lasik. For years, I was too squeamish to have the surgery. After all, I thought, any mistake and I might not only have degraded vision, but could also lose my job as a pilot.
As the procedure improved my interest returned. Finally, I concluded that if I were to be able to enjoy the full benefits of the improved vision Lasik offered, the time to act was now.
I decided that if I was going to have Lasik surgery, it should be performed by the best I doctor I could find. My exhaustive research led me to Dr. Holzman, a veteran of more than 80,000 procedures. Using Dr. Holzman would require that I travel three hours for the surgery, but I had no doubts that the drive would be well worth it.
The final impetus for me was talking personally with Dr. Holzman. He was surprisingly easy to get in touch with. He patiently and confidently answered all questions and concerns that I had. His staff was also accommodating and a great source of knowledge. On the day of the operation, Dr. Holzman displayed a quiet confidence that let me know everything was going to go just fine. Just a few minutes of surgery per eye and I was a changed man.
One final note, do not be discouraged by the required disclaimers associated with the surgery such as "your vision my not be as sharp as can be achieved with glasses or contacts." No one is more picky about their vision than I am and I can tell you that my eyes see more clearly than they ever have. In fact, as my last follow-up exam proved, my eyes are seeing the absolute best that they able. What a testimony to the precision of this operation.
I am one very satisfied customer. Don't wait to have your life improved by Dr. Holzman with Lasik.
If you would like to read the full (and comical) story of my life-long struggle for improved vision before Lasik, there's a chapter, "Eye, Eye Sir" in my book "Don't Look Before You Leap" available at Amazon and Barnes and Noble.
– David Webb – Commercial Airline Pilot and Author
"I Always Feel Like I'm In Very, Very Good Hands When I Refer My Patients."

Dr. Jones' Peer Testimonial
It is essential that your optometrist and surgeon can work together to ensure that you are receiving the best treatment. Dr. LaMia Jones frequently works with Dr. Andrew E. Holzman to ensure that her patients are provided with high-quality comprehensive eye care. Dr. Jones is proud to work with Dr. Holzman and refer patients to him.
Dr. Andrew Holzman,


You and your staff have changed all aspects of my life. I would listen to your commercials on my morning show at 94.7 The Arrow, Washington's Classic Rock. Honestly, I thought that procedure must be for people that have to strap on Coke bottles to see. Then a huge case of reality set in…I can't see either. As the stadium announcer for the Washington Redskins at Fed Ex field, calling the action from the booth, I had a hard time with numbers on the game jerseys and clock. On the air at 94.7 The Arrow, every show is broken down into minutes and seconds, not to mention, the amount of reading that's involved in doing a morning show. I would find myself squinting to read anything in the studio.
Having never been a slave to contacts irritating ones eyes or the hassle of glasses: always lost, dirty, getting scratched, occasionally breaking, etc. I wasn't sure if LASIK was the answer. Let's go to Tysons and find out. During my initial visit, Dr. Holzman and his staff examined my eyes…What? Nearsighted, astigmatism, and 20-60 in both eyes…Dr. Holzman thoroughly explained the procedure and answered every question thrown at him. Let's do it Doc!
In just a few short days I'm on the table and it's go time. Within minutes the surgery is over and Oh my God! I CAN SEE! You won't believe it. Went to work the very next morning, what a difference. It's all good. I was very impressed by the follow up visit the next day at Dr. Holzman's office. I even shot an eagle on a par five during a golf tournament the following week and when it comes to playing golf, I'm not even good enough to stink.
All I can say is: Dr. Holzman, you and your staff ROCK!
Thank You!
– Mark Kessler
Morning Show
94.7 The Arrow/WARW-FM
NFL Announcer/Washington Redskins

"Even though I've told people for years that this procedure is the most amazing, life enhancing, no-brainer decision ever, it's human nature to be a little bit nervous. Plus, you want to do your due diligence on doctors and their track record. I can say without hesitation, that Dr. Holzman passes every criteria with flying colors. Best of all, he has a great "bedside manner" with all of his patients. He walks you through every step of the surgery, follows up diligently, and makes sure you are satisfied with the outcome. I even trusted my wife's eyes to Dr. Holzman, and she was pretty nervous going into it. Once Dr. Holzman and his staff answered all of her questions, it was no problem. I've been seeing flawlessly for 8 years now, and enjoy much healthier eyes without contact lenses, not to mention all outdoor activities, in all seasons, in all weather."
– Steve Czaban
Sports Radio Personality
ESPN 980 – Washington, D.C.
"I can see 20/20 for the first time in years thanks to my doctor, Dr. Andrew Holzman… Dr. Holzman is dedicated to patient education."
– G. Gordon Liddy, Talk Show Host
"Having LASIK surgery performed by Dr. Andrew Holzman was one of the best decisions I've ever made! His thorough knowledge and experience assured me that I was getting the best possible care and level of professionalism. I'm seeing 20/15 for the first time in my life and loving every minute of it! In addition to singing his praises on WMZQ and recommending him to my listeners, my wife and sister also had highly successful procedures thanks to Dr. Holzman."
– Jon Anthony
DJ, WMZQ Radio Station 98.7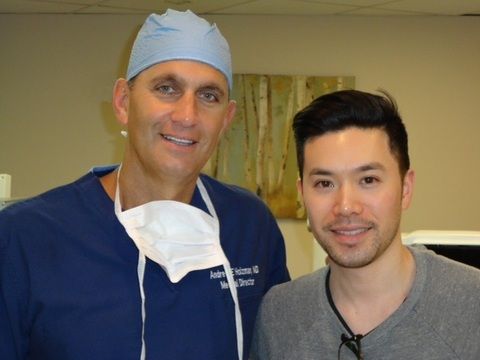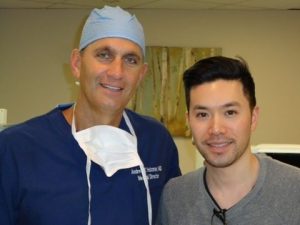 "I wouldn't trust anyone with my eyes except for Dr. Holzman. He's professional, friendly, and honest. I was always comfortable and knew exactly what to expect. Procedure didn't take more than 10min and was pain free. Couldn't be happier."
– Richard On
Lead Guitarist of the band OAR
Dr. Holzman with Comcast Sportsnet, Chick Hernandez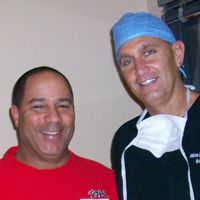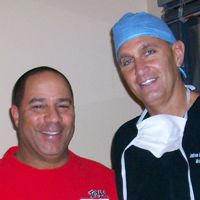 Dr. Holzman, I can't thank you and your staff enough!! For a man as good looking as I, to not be able to see myself clearly in he mirror was a travesty!! All kidding aside. You have made my life all the better by relieving a day to day stress that I had been living with for quite sometime…
Dr. Andrew Holzman with patient
– Chick Hernandez
Comcast Sportsnet