The Alcon WaveLight® EX500
Dr. Andrew E. Holzman uses state-of-the-art technology at his Washington, D.C.-area practice to ensure that our patients achieve the best possible outcome following refractive surgery. An excimer laser is an essential tool in LASIK and PRK surgery that is used to reshape the cornea, correcting myopia, hyperopia, or astigmatism. The WaveLight® EX500 excimer laser allows us to provide our patients with faster, safer, and more accurate treatment.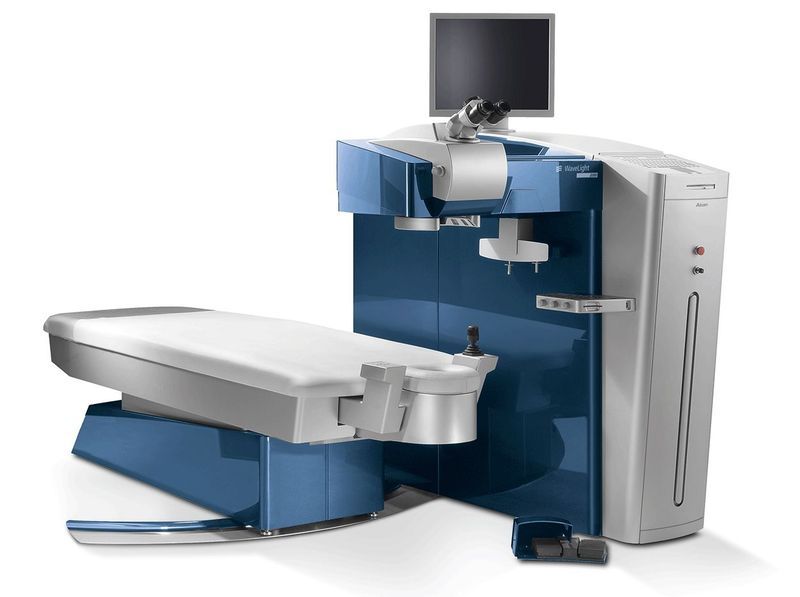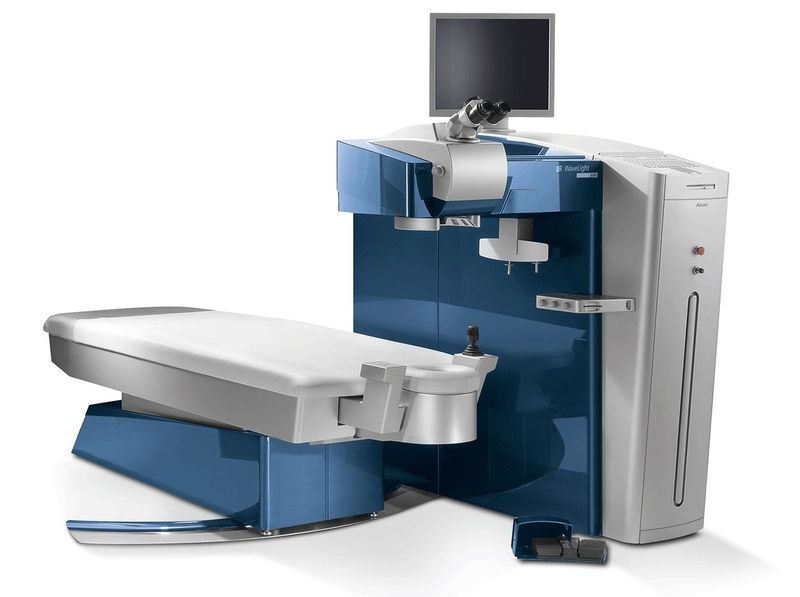 The Alcon WaveLight EX500 reshapes the cornea with exceptional precision. Advanced safety features help to ensure excellent outcomes.
How Does an Excimer Laser Work?
An excimer laser produces a cool ultraviolet light that vaporizes tiny amounts of corneal tissue without causing any thermal damage. This precise reshaping corrects myopia (nearsightedness), hyperopia (farsightedness), and astigmatism. In essence, the laser is permanently correcting refractive errors for which solutions such as glasses and contact lenses are designed to compensate. Once the necessary refinements have been completed, the cornea can properly refract light, reducing or completely eliminating the patient's need for corrective eyewear. The WaveLight EX500 performs this fundamental part of surgery with exceptional precision and efficiency, with special safety features to minimize risks. During LASIK, we also incorporate the WaveLight FS200, a laser tool used to create the corneal flap with far greater precision and safety than a keratome blade.
Our State-of-the-Art
Excimer Laser
The WaveLight EX500 is part of the ALLEGRETTO WAVE™ technology suite that has significantly improved our laser vision correction procedures, including PRK and LASIK. This advanced tool provides several benefits:
Improved Customization
The WaveLight EX500 offers many patients who were not previously candidates for LASIK the opportunity to achieve exceptional vision improvement. This technology makes it possible to provide a highly customized level of treatment.
Improved Efficiency
Due to its enhanced energy output, the WaveLight EX500 operates at a repetition rate of 500hz, which translates into about seven seconds of actual treatment time using the excimer laser. The expedited treatment time also helps prevent dehydration of the cornea as well as the risk of other complications.
Increased Precision
Patients can expect highly accurate treatment because this tool uses ultra-thin laser pulses. The system is also equipped with advanced multi-spatial 1050 Hz-type eye-tracking technology that allows it to account and compensate for even the slightest eye movements while also reducing patient fatigue.
We gladly invest in the latest technology in order to provide our patients with the life-changing results they deserve.
Utilizing Wavefront Optimized® ablation profiles, the WaveLight EX500 can also minimize the induction of spherical aberrations, ensuring that incoming light meets at one point within the eye. Often, this results in improved night vision and reduced halos and glare sensitivity.
Schedule a Consultation
Dr. Holzman's practice with Holzman Laser Vision has earned a reputation among patients and colleagues for providing exceptional laser eye care that prioritizes patient safety and exceptional results. We gladly invest in the latest technology in order to provide our patients with the life-changing results they deserve. To learn more about the advanced technology we use to perform our laser vision procedures, or to schedule a consultation, contact us online or call one of our conveniently located offices.