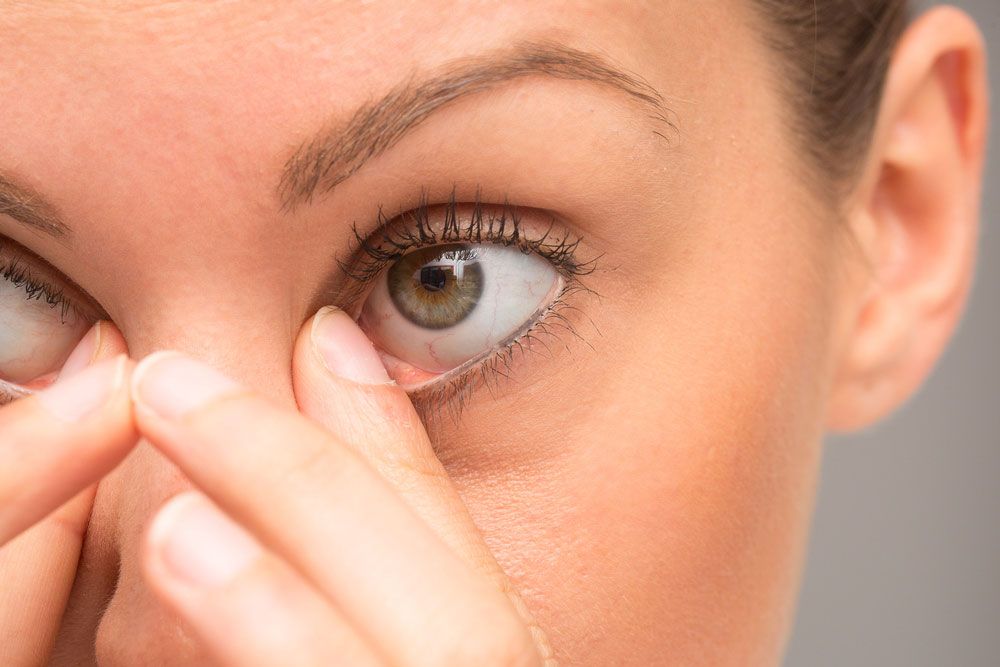 When it comes to treating corneal ectasia or keratoconus, corneal cross-linking is an effective method. At the ophthalmology practice of Dr. Andrew E. Holzman in Washington, D.C., we offer corneal cross-linking with topography-guided PRK to reduce the risk of regression and other complications following the procedure.
Here, our team discusses the benefits of this treatment, and explores how corneal cross-linking can offer an additional layer of post-surgical predictability.
What Is Corneal Cross-Linking?
A minimally invasive procedure, corneal cross-linking, also called CXL, is used in the treatment of keratoconus, a condition that causes the cornea to bulge.
This treatment involves administering riboflavin eye drops, which penetrate into the corneal stroma. For the next 3 to 8 minutes, the eye is exposed to ultraviolet light. This process actively strengthens the collagen fibers within the cornea, therefore, reducing the effects of keratoconus.
There are two primary kinds of corneal cross-linking:
Epithelium-on CXL: The outermost layer of the cornea is left intact. This requires a longer procedure, to allow the riboflavin to penetrate the layers of tissue.
Epithelium-off CXL: The outermost layer of the cornea is removed, allowing the eye drops to penetrate the corneal tissue with ease.
PRK: A Brief Overview
Like LASIK, PRK addresses a number of vision problems, including nearsightedness, farsightedness, and astigmatism. During this procedure, the outermost layer of the cornea is removed, and the tissue underneath is then reshaped using a laser. The removed epithelium grows back, typically only a few days following the procedure.
At our practice, Dr. Holzman also uses a topographic map, which helps him perform the procedure with incredible accuracy.
Combining Corneal Cross-Linking with PRK
Recent research has suggested that combining corneal cross-linking with PRK offers substantial benefits. While topography-guided PRK improves vision and regularizes the corneal surface, the purpose of cross-linking is to enhance the long-term stability and results.
In fact, a 2016 study treated 30 eyes with combined treatment, and 30 eyes with cross-linking alone. Sixty-three percent of individuals in the combined group gained two or more lines of visual acuity, while only 27 percent in the cross-linking only group experienced the same level of improvement.
What to Expect during Treatment
Patients who choose corneal cross-linking with topography-guided PRK can rest assured knowing they are receiving the most predictable treatment available. Because corneal cross-linking itself is minimally invasive, undergoing this procedure at the same time as PRK does not result in any additional post-operative discomfort.
During your appointment, PRK will be performed first, followed by corneal cross-linking. Because the nature of PRK involves removing the outer layer of the cornea, epithelium-off CXL will be performed.
Following the procedure, a protective contact lens will be placed over the eye while the corneal tissue regenerates. While most patients are completely comfortable after the first week or two of initial healing, it takes approximately six months to achieve the desired results. However, the effects are long lasting.
Contact Us to Learn More
If you are considering vision correction surgery, combining corneal cross-linking with your procedure can offer significant benefits. As always, your treatment recommendation will be completely dependent on your unique situation and needs.
During an initial consultation at our practice, we can discuss all of your options with you. To learn more, or to schedule a visit, call us at one of our five office locations or contact us online.
Related to This