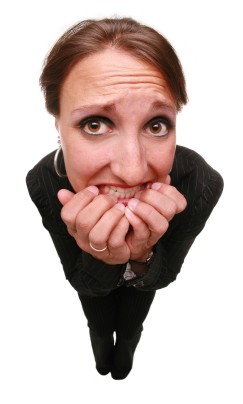 I am tired of wearing contacts but scared to have LASIK!  Should I really be this scared?
"I am 31 years old, and I have been wearing contacts for most of my life. I started wearing contacts when I was about 12 years old.   One might expect that a teenager would not be a responsible contact lens wearer and needless to say, I was not a very responsible lens wearer.  My parents suggested that I wear my glasses more than the contacts, but I was strong willed and did not want to wear my glasses.  Things were generally fine with my contacts until I developed seasonal allergies around age 20. The runny nose and sneezing could be dealt with, but the impact on my eyes was miserable.  My eyes were constantly watering, were red, itching, and left me with blurred vision. My allergies forced me to reluctantly wear glasses which did help some of my allergy symptoms.  After I developed allergies, my optometrist recommended that I switch to daily wear contact lenses. This has helped tremendously, although my allergies have not been nearly as severe as they used to be, the daily lenses make traveling much easier as well. It's so much easier than dealing with solutions, cleaning, cases, etc. but what the years have taught me is I remember why I hate wearing contacts.  I am in the process of researching LASIK and am so scared."
This is a common story that we hear at our LASIK consultations.  You are not alone in your fear.  But the reality is that if you do your research you will find that you have a greater risk of damaging your eyes by years of contact lens wear than you do of harming your eyes with LASIK.  LASIK in the hands of an experienced and skilled surgeon is the key.  Proper testing to ensure that you are an excellent candidate for the procedure is also a must.  Take the first step and begin with scheduling a consultation with a surgeon that specializes in laser vision correction.  Go to a reputable laser vision correction center.  Read both the laser center and the surgeon's reviews.  Get your concerns and fears addressed so that you can make an informed decision and be free of the hassle of glasses and contacts!
Related to This