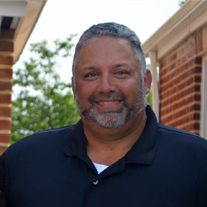 On Saturday October 3rd, we sadly lost a great friend and colleague in Richard Habib.   His sudden passing occurred while he was doing something that he loved, refereeing one of his children's soccer games.  Richard was only 44 years old and leaves behind 5 children- Alexandra, Rachel, Richard Jr., Charles and Samantha, and his loving wife Penny.
Richard Habib was the Regional Director of TLC Laser Eye Centers: Southeast and MidAtlantic regions and he was the glue of the TLC family.  Richard meant so much to so many people, that trying to describe his emotional reach is impossible.  He was the 'go to guy' for most of us in the company, and we all relied on his help in many facets of the business..  He was the best manager you will ever meet, and had a unique ability to defuse situations calmly, effectively and wisely.  My colleagues and I at TLC loved working with him because he truly cared and listened.   Richard was more than a co-worker, he was a friend.  His warmth, smile and laugh were a constant presence in our lives that will be impossible to replace.  We are all so saddened by his premature death.
Richard was with TLC for approximately 20 years.  I first came to know him in 2005 when my laser business merged with TLC. He helped facilitate a smooth transition and was an anchor for me in a sea of chaos.   I shared a small office with Richard for several years and we came to know each other rather well.  I really enjoyed that time- it was fun and I was able to learn some incredible lessons from him about business management.  Richard didn't go to Wharton or Harvard Business School– he was just an amazingly adept individual who had innate abilities in the management of people.  He was a master of relationships and compromise.  Richard was incredibly wise, had a big personality and knew how to use his warmth and charm to help others. He was always calm in demeanor and gentle with advice and direction.
On a personal side, Richard was great man and role model.  He always talked of his family and loved spending time coaching and refereeing soccer and other sports.  He was a great dad to 5 children and a loving husband.   Richard was always there at the party, no matter who was throwing it or where it was.  He was the epitomy of the 'team player', and in fact always discussed team concept. He created games for our staff in order to foster teamwork and camaraderie.    He loved trivia games, drinking games, pool volleyball and just plain having fun.  He was the guy I always had to wrestle at the pool party and also the guy that you have to throw out of the pool an hour after everyone else has left.    Richard was the life of the party- commanding rooms with ease just by showing up!  He created our fantasy football league and always boasted how good his team was even though they rarely won!
Those who knew him really miss him a lot, but we have some small solace in knowing that he touched many lives in a very positive way.  His memory will certainly live on forever and TLC will not ever be exactly the same without him.
Richard's funeral will be at 10 AM- Wednesday October 14th at All Saints Catholic Church in Manassas, VA
For those interested in contributing to a fund which was established to help Richard's family, please visit the following webpage;
https://www.gofundme.com/richardhabib