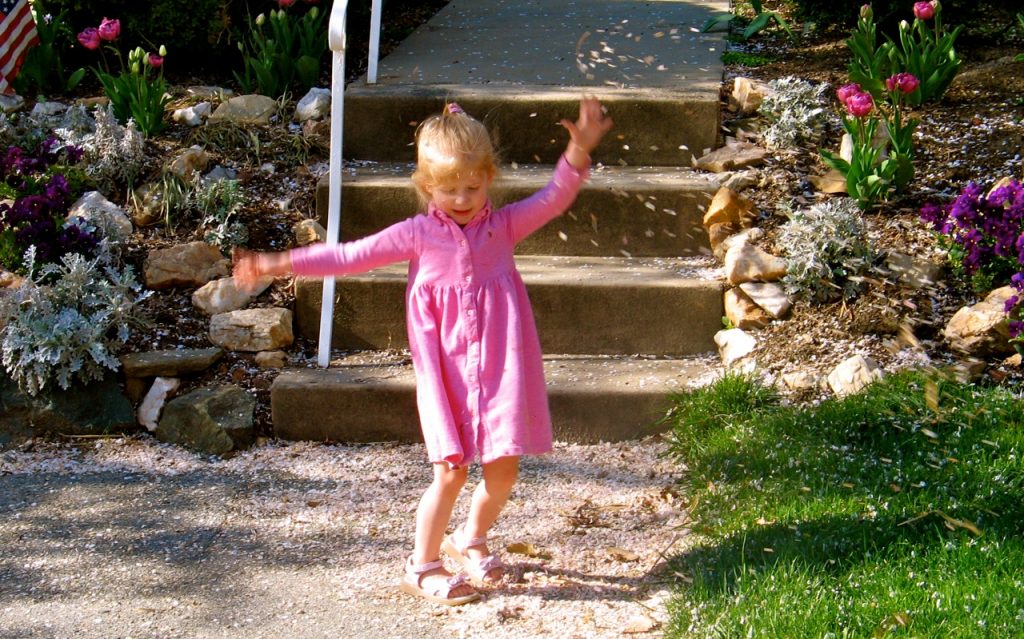 Big news in the Maryland, Virginia and DC Metropolitan area: Cherry Blossoms starting to bloom finally!  People travel from all over the US to see the Cherry Blossom's  in bloom.  The tree's blooming make news every year.  You have no idea how beautiful it is  to walk around the DC metropolitan area when the Cherry Blossom trees are in full bloom.  It smells sweet in the air and the sight of soft pink petals raining all around you is honestly, breath taking.  Today is our first day of seeing a glimpse of the blossoms and feeling 70 degree weather locally.  I was playing outside with my daughter and thought to myself, what if I could not physically see this sight?  It made me put myself in our patient's shoes.  I do not need glasses and never have.  I work with patient's who have worn glasses since childhood or contacts from young adulthood to date.  I personally have never struggled with putting contacts in to see my daughter Grace dance in the petals of the Cherry Blossoms.
I think that I never take my vision for granted because I spend my week working with people who want to have their vision corrected.  I am always asked if I have had the LASIK or PRK procedure and my reply is I have never needed it.  The response from almost everyone is "You are so lucky"!
Today, as I enjoyed the unbelievable weather and the beauty of Spring's beginning, I got it!  For the first time I really thought to myself, you know what I am lucky to have naturally great vision.  It also made me think that medicine and technology has come so far.  Dr. Holzman is passionate about what he does for a living.  He gets to change people's quality of life in a positive way every week.  His team of people, including myself get to assist and be a part of this life changing procedure.  We are trusted by patient's with their eyes!  That is huge!
It is an honor to be trusted with something so important as someone's sight.  There are many laser centers and doctors in the DC Metro area, but I can say that after 12 years in this field, there may only be a few that are as passionate about doing everything we can to give our patient's the best visual outcome available to enhance their quality of life.  Come into any DC Metro TLC Laser Center and meet Dr. Holzman and his dedicated staff.  I can assure you, you will not be disappointed!  What we get to be a part of, your vision and the gift of sight is truly not just a job.  It is a passion!
Related to This