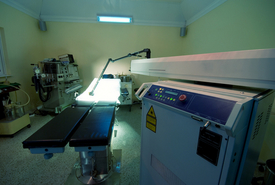 At the TLC laser vision correction centers in and near Virginia, LASIK is performed for countless reasons and, therefore, offers countless benefits. Through such advanced technologies as the IntraLase® laser system and wavefront mapping, I am able to restore vision to 20/20 or better in most cases, giving patients the opportunity to bid farewell once and for all to their glasses and contact lenses. This is particularly important to people who engage in personal or professional activities that require excellent unaided vision.
Among the patients who benefit most from LASIK are athletes, whether amateur or professional. Glasses and contact lenses can seriously interfere with the ability to exercise, swim, or participate in sports such as basketball and tennis. Thanks to LASIK, athletes no longer need to worry about securing their glasses or having them fog up at the worst possible times, nor do they have to worry about losing their contacts on the court or in a swimming pool.
Of course, professional athletes cannot afford to entrust their vision to any but the best LASIK surgeons in the business. A poor outcome could compromise or even end their careers. This is why some of the nation's most notable professional athletes have chosen to have their LASIK performed at TLC Laser Centers. With our remarkable rate of success in performing LASIK, you can be assured that the choice of professional athletes is the right choice for you, as well.
Custom, All-laser LASIK for Athletes
For athletes, the ability to see at various distances, from near to far, is of utmost importance. Just as important, however, is the quality of that vision – their visual acuity. The sharper and more vivid the images received by their brains, the better they will be able to perform.
Having your surgery performed by an experienced, reputable surgeon is, of course, essential. Equally essential is maximizing your chances of achieving the best outcome possible. Thankfully, at TLC Laser Eye Centers, we offer the latest and most advanced forms of LASIK currently available, including custom wavefront LASIK and all-laser iLASIK. Unlike its traditional counterpart, custom wavefront LASIK accounts not only for common visual errors such as farsightedness, nearsightedness, and astigmatism, but also for the unique, often minute flaws in the shape of your cornea, known as higher order aberrations. By addressing these higher order aberrations, custom wavefront LASIK is more likely to allow you to see perfectly without glasses or contacts, with a lower incidence of side effects such as difficulty seeing at night. Likewise, all-laser iLASIK does not use a blade – the microkeratome – to create the flap in the cornea that allows Dr. Holzman to access and reshape your underlying corneal tissue. Most complications with the flap are due to the use of this blade, which, although highly precise, is not as precise as the IntraLase® laser used to create the corneal flap in iLASIK.
By undergoing custom wavefront, all-laser LASIK, you dramatically increase your chances of being able to participate in sports without having to worry about wearing glasses or contacts.  Imagine the freedom!  Imagine the impact such visual independence would have on your game! It's entirely possible at TLC Laser Eye Centers.
PRK – An Alternative to LASIK
Unfortunately, not everyone is an appropriate candidate for LASIK, including those with especially thin corneas. Thankfully, these patients may be good candidates for PRK at TLC Laser Eye Centers. PRK differs from LASIK only in how the cornea is accessed. While in LASIK, a flap is created in the uppermost layer of the cornea, in PRK, this uppermost layer is entirely removed. This does lead to a longer, slightly more uncomfortable healing period; however, PRK otherwise produces similarly excellent results, and can be customized to the same degree as LASIK. Furthermore, the risk of side effects related to the corneal flap is absent with PRK, making it an attractive option for many athletes, including some who are good candidates for LASIK.
Take Your Game to the Next Level – Contact Us Today!
If you are an athlete who wants to achieve independence from glasses and contact lenses, and possibly see better than you ever have even with those visual aids, please contact TLC Laser Centers today.
Related to This