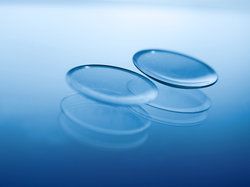 For patients who suffer from vision impairment and are looking for a more permanent solution than eyeglasses or contact lenses, Dr. Andrew Holzman offers LASIK surgery and other advanced vision correction procedures at the TLC Laser Eye Center. These procedures use the most advanced technology to improve patient vision and offer a freedom from prescriptive lenses. All patients considering LASIK use prescriptive eyewear, and many of them rely on contacts for vision correction. It is important for our Washington DC patients to understand that prior to LASIK, contact lenses will need to be removed for a period of time. Dr. Holzman explains why it is necessary to cease the use of contact lenses prior to LASIK, and when this should be done.
When Should Contact Lens Use be Ceased?
Prior to undergoing LASIK surgery, Dr. Holzman will perform a thorough consultation that will involve information regarding pre-operative care and instructions, details on what can be expected during the LASIK procedure, and post-operative care instructions. One factor that will be discussed in regards to pre-operative instructions is the use of corrective eyewear. Patients who rely on contact lenses for vision correction will be instructed to cease use of contact lenses prior to LASIK surgery. The time at which contact lens use should be ceased will depend on which type of contact lens is worn. Below are the general guidelines for ceasing the use of contact lenses before LASIK surgery:
Soft lens: Patients who wear soft lens contact lenses, which are the most common form of contact lens, will be asked to refrain from wearing contacts for a minimum of one to two weeks before their LASIK procedure.
Hard lens: Hard lens contact lenses or gas permeable contact lenses will need to be removed for several weeks, and preferably a month before LASIK surgery is scheduled.
During the time that contact lens use is prohibited, patients are free to use eyeglasses for vision correction.
Why Do Contact Lenses Need to be Removed?
All pre- and post-surgical care instructions that are provided by Dr. Holzman are given in order to ensure the ultimate success of LASIK surgery. The instruments used during a LASIK procedure are extremely precise. These instruments take specific measurements of the eye to determine the exact correction that is required to improve vision. Contact lenses, even soft lenses, put subtle pressure on the eyes that can temporarily alter the surface or shape of the cornea. With contact lenses removed, the eyes will slowly return to their natural state. Ceasing the use of contact lenses for a considerable period of time leading up to LASIK surgery ensures that the natural state of the eyes will be measured and, therefore, vision correction will be precise.
Contact Us
Dr. Holzman understands that patients have many questions leading up to LASIK surgery. At a LASIK consultation Dr. Holzman provides patients with information regarding the LASIK procedure options, pre- and post-surgical care, and even LASIK costs and how to finance these costs to make treatment affordable. If you would like to learn if LASIK surgery is right for you, we invite you to contact us at your earliest convenience to set up a consultation with Dr. Andrew Holzman.
Related to This