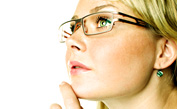 Since ophthalmologists first began performing the procedure in the United States in the mid-90s, LASIK has only gotten safer and more effective. With the introduction of wavefront technology into the procedure, it became possible to truly customize LASIK, allowing for the treatment not only of farsightedness, nearsightedness, and astigmatism, but also of higher-order aberrations. Technology emerged that permitted surgeons to create the flap in the upper layer of the cornea with a laser rather than the handheld blade that had traditionally been used. More and more people are achieving exceptional vision improvement with LASIK, with fewer and fewer instances of side effects.
Nevertheless, the success of the LASIK procedure depends on a number of important criteria being met. At the TLC Virginia and Maryland LASIK centers in Charlottesville, McLean, and Rockville, patients are carefully screened before they are judged to be good candidates for the procedure. My staff and I then rely on our years of experience and finely honed skills, along with state-of-the-art technology, to deliver the best results possible, each and every time.
At the TLC centers in Virginia and Maryland, LASIK success stories are the norm. We invite you to join the many patients of our practice who have achieved visual independence through LASIK surgery.
Criteria for the Patient
To ensure the success of a LASIK procedure, it is important that we accurately identify any traits in the patient that might interfere with the results. Suitable candidates for the LASIK procedure should:
Have a stable prescription for at least the last year
Be at least 18 years old
Have good ocular health, with no infection or injury within the past year
Not have an autoimmune disorder
Not have dry eye syndrome
Have no corneal scarring
Have suitable corneal thickness
At the TLC laser vision correction centers in Virginia and Maryland, PRK is often recommended to patients whose corneas are not sufficiently thick to support the creation of a corneal flap. Some patients with thinner corneas may be able to undergo bladeless LASIK.
Criteria for the Surgeon
As a prospective patient, you need to seek out a surgeon who possesses certain traits, such as experience, board certifications, a rich and broad educational and training background, and access to the best technology available. As the lead surgeon and regional medical director of TLC Laser Eye Center in the Washington DC Metro area, I am both a board-certified ophthalmologist and a corneal specialist. In fact, other eye surgeons in the area trust me to perform their LASIK procedures. Over the years, I have accepted – and had great success with – cases that other surgeons have dismissed as too complex.
Using only the most advanced tools and technology to diagnose and treat visual errors, we are able to customize LASIK to the unique needs of each individual patient.
Contact TLC Laser Eye Centers Today
If you would like to learn more about LASIK, please contact our Virginia and Maryland LASIK offices in Charlottesville, McLean, and Rockville. We would welcome the opportunity to meet you and serve your eye care needs.
Related to This