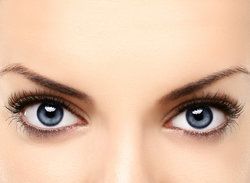 Believe it or not, it has been 18 years since the United States Food and Drug Administration first approved the use of an excimer laser in LASIK surgery. Since then, millions of Americans have achieved visual independence by undergoing the procedure, with the vast majority improving their vision to at least 20/40, which legally allows them to drive without glasses or contact lenses. More than half of all patients achieve 20/20 or better vision.
The success of LASIK surgery in correcting myopia (nearsightedness), hyperopia (farsightedness), and astigmatism has been phenomenal; in fact, LASIK is one of the safest and most successful surgeries in the history of medicine. However, conventional LASIK has always had one notable limitation: it was unable to correct higher-order aberrations, or the tiny flaws in the shape of the cornea that are unique to each individual eye. Therefore, even patients who achieved 20/20 vision through LASIK might not have "perfect" vision, just as they did not have completely perfect vision with their glasses or contact lenses.
Fortunately, wavefront technology enables Dr. Andrew E. Holzman to provide a truly customized LASIK procedure at his office serving Washington DC. Custom LASIK benefits include the correction of higher-order aberrations, increasing the odds that patients will be able not only to say goodbye to their glasses and contact lenses, but also to see the world with greater crispness, vividness, and clarity than ever before in their lives.
The Advantages of Custom LASIK
The primary difference between custom LASIK and conventional LASIK lies in how the flaws in the shape of the cornea are measured. In conventional LASIK, the methods used to gauge a person's vision are much the same as those that have been used to determine a person's eyeglass prescription for decades. These methods are unable to detect higher-order aberrations, therefore limiting conventional LASIK to the correction of the same errors that could be corrected with glasses or contact lenses.
In custom LASIK, Dr. Holzman uses sophisticated wavefront technology to create a remarkably detailed, highly accurate, three-dimensional digital map of each eye. This map accounts not only for universal refractive errors – the lower-order aberrations that have always been measurable – but unique flaws in the landscape of the cornea. Via advanced computer software, this map is used to guide the excimer laser in the reshaping of the cornea, ensuring an entirely customized procedure.
Wavefront technology is not limited to LASIK. Indeed, for patients who are not suitable candidates for LASIK, Dr. Holzman can use the wavefront system to perform custom PRK. However, due to the lower incidence of side effects in custom LASIK than its traditional counterpart, a greater number of patients actually qualify for the procedure than in the past.
Likewise, the LASIK procedure has been made even safer through the combination of wavefront technology with the IntraLase® laser system. In IntraLase® surgery, the creation of the corneal flap – the stage of LASIK that differentiates it from PRK and LASEK – is carried out with a precise, state-of-the-art laser rather than the handheld microkeratome blade used in conventional LASIK.
Learn More about Custom LASIK
To learn more about the benefits of custom LASIK, or to schedule your initial consultation with Dr. Holzman, please contact our laser vision correction center today.
Related to This