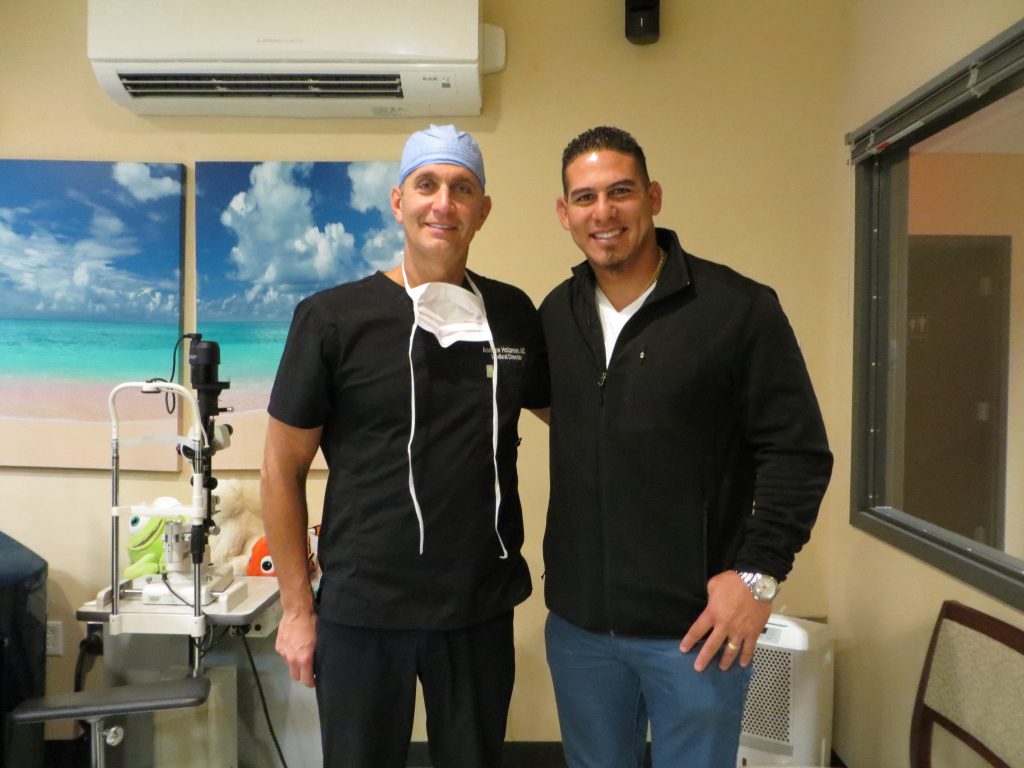 Back in March we mentioned that Washington Nationals catcher Wilson Ramos underwent LASIK at our practice. The surgery was a success and gave him exceptional 20/15 vision. Three months later, we're seeing the real advantages that laser eye surgery can have for athletes. Ramos is hit-machine and offensive powerhouse, and there's speculation that Ramos is a potential All-Star-in-the-making.
The eye care team at our Washington DC practice are proud to have helped Ramos in this extraordinary season so far. (Obviously we can't take all the credit.) It just goes to show how LASIK can benefit athletes and people with active lifestyles.
Wilson Ramos' Season Numbers So Far
Thomas Boswell of The Washington Post had a great column on how Ramos is really turning things around this season, putting up numbers that showcase his offensive talents. Right now, Ramos has a .337 batting average, second in the league behind teammate Daniel Murphy. Boswell added that Ramos is also "sixth in slugging percentage (.561) and fifth in on-base-plus-slugging percentage (.946)."
Ramos is also the most dominant catcher in the league this season, with 38 RBIs, an on-base percentage of .385, and 11 home runs. If he's not the best catcher in the league, he's indisputably one of the best (if not the best) hitting-catchers.
LASIK Makes a Difference
As we mentioned on our blog in March, Nationals manager Dusty Baker had Ramos return to Washington DC to undergo LASIK during spring training. Prior to getting LASIK, Ramos wore contact lenses, which were uncomfortable and affected his performance. Boswell even mentions Ramos' LASIK surgery in his column, which reveals how key the surgery has been in Ramos' career ascent.
Now, with 20/15 vision unencumbered by lenses and frames, Ramos is showing others how it's done and what he's always been capable of. Prior to LASIK, Ramos had a career batting average of .260 and only knocked out 10 to 15 home runs a season.
Consider the math now.
We can't stress this enough: what a difference LASIK makes.
Athletes Can Get an Edge
These results aren't guaranteed for all athletes, but you can see how a simple laser eye surgery can take you and your game to the next level. Rather than worrying about prescription sports goggles or contact lenses, you can swing, shoot, run, and compete without any worries. Plenty of athletes at all level of competition have decided that LASIK was right for them, and they have not regretted the decision.
In addition to Ramos, other athletes who have undergone LASIK include:
LeBron James
Dwayne Wade
Troy Aikman
Tiger Woods
Tiki Barber
Greg Maddux
Advances in custom LASIK technology have helped surgeons achieve even better results than a generation ago, which means that dramatic vision enhancements like Ramos experienced are more likely.
Is LASIK Right for Me?
The best way to find out if LASIK is the right way to unlock your game and see great is to schedule a consultation at the practice. We can go over all of the risks and benefits and determine if LASIK is ideal for you.
Learn More About LASIK Surgery
To learn more about LASIK and how it can benefit you, be sure to contact our laser eye surgery and vision correction center today. The entire team here looks forward to your visit and discussing your treatment options in greater detail.
Related to This