TAMPA, Fla. — Jameis Winston has been surrounded by questions about his eyesight and jokes about his constant squinting since his Heisman Trophy season at Florida State in 2013. So Wednesday's confirmation that he had LASIK surgery to correct nearsightedness offers hope for improved play down the road but also brings natural questions about why he waited until after his fifth NFL season to take action.
"It's never a factor. It's never been a problem, just because he squints," then-Florida State coach Jimbo Fisher said more than six years ago as the Seminoles chased a national championship in Winston's first year playing college football. "He still seems to see. Think of the way he would play if he could see."
Winston, of course, has shown other symptoms of vision issues beyond his squinting, having thrown for 30 interceptions this past season, the most by any NFL quarterback in 32 years. Seven of his passes in 2019 were returned for touchdowns by opponents, an NFL record, and as Winston potentially becomes an unrestricted free agent next month, his struggles to limit those mistakes is a cause for concern as the Bucs decide whether to keep him as their starting quarterback moving forward.
Bucs coach Bruce Arians was asked about Winston's eyesight the day after the 2019 season ended, and like Fisher, he was fairly nonchalant about his quarterback playing with less than optimal vision during games. "Yeah, he's nearsighted," Arians said. "He can't read the scoreboard, but he sees the guys in front of him, so he's fine. … He's got goggles that he practices in sometimes."
Winston has shown symptoms of vision issues beyond his squinting, having thrown for 30 interceptions this past season, the most by any NFL quarterback in 32 years. (Jasen Vinlove / USA Today)
LASIK surgery has become a reasonable, affordable option for any person with vision problems, but for athletes who rely on their sight to keep million-dollar salaries, it's a major decision to undertake, weighing the reward against any potential setbacks that could arise. One study estimated that 17 percent of NFL players require some kind of correction to their eyesight, whether through contact lenses or surgery.
"It's a risk, where every athlete has to decide: Is it worth it?" said Michael Peters, a North Carolina optometrist and author of the book, "See to Play: The Eyes of Elite Athletes." "For the athlete who's having trouble with contacts, then it may be worth the risk, or someone who doesn't want to wear glasses, then it's worth the risk. It's an option, and there are pros and cons."
Peters remembers that Winston was called "Jameis Squintston" back in his college days, and as far back as 2013, sportswriters doing Winston stories were asking eye surgeons about the seemingly obvious importance of a quarterback's vision, with answers that seem telling as perhaps part of why he's thrown an NFL-high 89 interceptions in his five years as a pro.
"Visual acuity is a strong predictor of performance," said Steven Hitzeman, then a professor at Indiana's School of Optometry, to the Associated Press in 2013. "Visual performance and athletic performance. The better you see, the better you perform. The better the acuity, the quicker you respond to visual stimuli. The quicker you respond to visual stimuli, the better decisions you're going to make. The quicker decisions you're going to make, the better you're going to play."
The same week everyone talked about his squinting in 2013, a Tallahassee eye doctor posted a photo of Winston, saying he had been fitted with "Ortho-K" contact lenses, which are custom-fitted lenses that can be worn overnight to reshape the cornea and help correct a vision issue without the patient needing to wear lenses during the day. It's unknown how long if at all Winston wore the lenses as part of his treatment.
Why, then, has Winston played five full seasons with the Bucs not seeing as well as he could on the field? He had explained in college that he had corrective contact lenses that he wore in normal daily life but didn't like wearing them during games, perhaps from the risk of one popping out during a game. Fisher had said that Winston wore contacts while playing baseball, but didn't for football.
Why wait to have LASIK surgery? It's actually not that uncommon. LASIK is available to patients who are 18 and older, but within the industry, it's accepted that patients should have the same prescription for at least a year (if not two) to avoid surgery correcting vision that's still changing over time. Some suggest waiting until age 25 — Winston turned 26 in January — because up to that point, a person's vision is still changing and susceptible to further change after surgery.
"The eyes change up to the age of 24 or 25," said Peters, who has worked as team optometrist for the NHL's Carolina Hurricanes and nearby minor-league teams. "If you got it at age 21, your eye may change and you may have to have it again. Sometimes you might be 20/10 or 20 over 8 with your prescription (contact lenses) and if you do LASIK, it might end up being 20/15 and you have the chance to potentially not be as sharp as you would with glasses or contacts. When you're talking superhuman vision like 20/8, when you mess with the cornea, you have the potential, and it's very rare, to not have the best acuity as you had before. It's a pretty good chance you're going to change between 21 and 25. But if you're 21, and in your window of opportunity making big bucks as a professional quarterback, you could zap yourself to get another 3, 4, 6 years and then maybe wear contacts after that."
Winston hasn't spoken about why he had the surgery or why he waited until now to have the surgery. Bucs coach Bruce Arians declined to comment on the news Thursday, calling it "personal business," and the Bucs declined to answer questions about how much they test players' vision as part of their annual physical exams.
Superstars in other sports like LeBron James (at age 22) and Tiger Woods (at age 23) have had LASIK and saw real improvement in their vision. Other prominent NFL quarterbacks have undergone corrective surgery on their eyes in recent years. Titans quarterback Ryan Tannehill, who led the Titans to the AFC Championship Game, had LASIK surgery in 2015 at age 26, after his third NFL season. Vikings quarterback Kirk Cousins had LASIK in 2014 at age 25, after his second season, and Eagles quarterback Carson Wentz had PRK surgery (a similar surgery that uses a laser to reshape the cornea) in 2017 at age 24, after his first season.
"You have an 18-year-old kid, going to college, plays football, quarterback, wants to have LASIK. Not recommended," said Dr. Donald Teig, who has worked with three NFL teams, including the Buccaneers in the 1980s, and founded The A-Team, a group of sports medical professionals. "The eye does continue to change, especially into early adulthood. Is it 25? Is it 22? You don't know, but you really don't want to do that in the teens. If you're in your 20s, there's a lot more stable results with vision, you don't get as much fluctuation, so you go ahead and do it."
Dr. Andrew Holzman, who did Cousins' surgery and works with many professional athletes, said while there are age guidelines as mentioned for LASIK, he said he often performs surgery on patients slightly younger — athletes in the prime early years of their careers, even regular people headed off to military service who need optimal vision while they're deployed. Those patients do so with the understanding that their vision could still shift, requiring a "touch-up procedure," which can include the PRK surgery.
LASIK isn't 100 percent effective, and the surgery can cause a dry eye, or issues with glare and light sensitivity, especially at night, Teig said, pointing to a former Knicks player who had vision issues and was constantly putting drops in his eyes for dryness after LASIK surgery.
"You have an athlete who doesn't want to put contacts in his eyes every day," Teig said. "This is not only athletes. People get LASIK because it's very convenient. If all goes well, you won't have to put on glasses or contact lenses. There's a laziness factor, a convenience factor. That's the big thing. … When you take the risk, if you're getting paid millions of dollars as a professional athlete, and there's a chance the procedure will result in some issues, do you really want those issues?"
With Winston not wearing contacts and not opting for surgery, fans understandably ask why a team would allow such a key player to play with vision problems. Teig said every NFL team he's worked with has included an eye exam as part of the annual physical all players must take. Some do deeper testing with depth perception and hand-eye coordination, but others are content to read an eye chart, check the retinas and see you next year. He said if an athlete isn't old enough to be an ideal candidate for surgery, every effort should be made to find a solution with contacts that provides better vision during games.
"If you're seeing fairly poorly, there's no reason at all to be playing a game and seeing ridiculously blurry like Jameis Winston did as you used to watch him trying to squint to see the scoreboard and things like that," Teig said. "He obviously doesn't see that great. There's no point to doing great. If he were my patient, I would find a contact lens that works comfortably and gives him good vision. Sweat in your eyes? You can get sweat in your eyes and not wear contact lenses. That's not an excuse."
Teig said some patients don't have the dexterity to put lenses in each day, or have eyelids that are sensitive and spasm when a lens is placed on the eye, and he has sympathy for those people who can't make contact lenses work, but then he would suggest corrective surgery rather than have them go about their day not seeing properly.
LASIK surgery can have a dramatic and positive effect on a football player. Former NFL lineman Ross Tucker, who writes for The Athletic and hosts the Ross Tucker Football Podcast, had the surgery after his rookie year with the Redskins in 2002. A local eye surgeon offered the surgery free to Redskins players ("back when it was like $5,000 an eye or something"), and while he had initial apprehensions, he said they were gone when he saw the first two names on the doctor's client list: Tiger Woods and Patrick Ewing.
"The procedure was still relatively new," said Tucker, who had worn contact lens since his junior year of high school. "The first guy on the list is Tiger Woods. I thought, 'I play the offensive line.' If Tiger Woods did this and I can get this for free, that's good enough for me. Honestly, a top-five thing I've ever done in my life. The next morning, I woke up and I was like 20/10 or 20/15 in each eye. You're used to seven or eight years of … you wake up, you kind of see the alarm clock and you put your glasses on and walk into the bathroom and put your contacts in. To wake up that next morning, it was like in 2001, somebody turned HD on my entire life. Everything else was standard definition, and all the sudden, it's like 'Holy crap! HD is awesome!' It was amazing. I've never looked back."
Not every player was ready to jump in like that. Former Giants running back Tiki Barber wore contacts in college, but they popped up often enough in games that he eventually gave up on it and played with no correction. He found it to be more of a problem in the NFL, where more games are played at night, and he noticed it especially on kick returns, having problems with the ball and stadium lights.
So Barber opted to have LASIK in 2000 at age 24 after his third NFL season, but in only one eye, his weaker left eye, leaving his dominant right eye alone. The recovery period was longer then, requiring four or five days, but he was pleased with the results.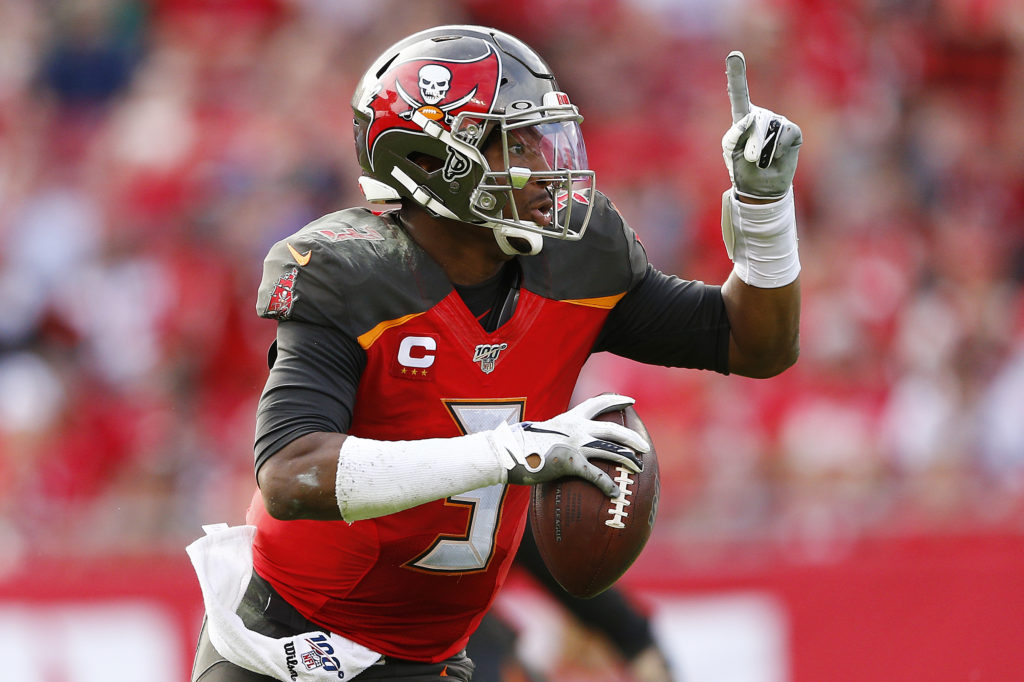 TAMPA, FLORIDA – DECEMBER 29: Jameis Winston #3 of the Tampa Bay Buccaneers scrambles with the ball against the Atlanta Falcons during the second half at Raymond James Stadium on December 29, 2019 in Tampa, Florida. (Photo by Michael Reaves/Getty Images)
"I was really nervous because it's a blade and it's your eye," he said. "I had no idea. But it changed it immediately. My vision went back to 20/20 and I never had any problems with it. It was great. I've seen a lot of guys get it done over the years. I was glad I got it done."
Former NFL cornerback E.J. Biggers, drafted by the Bucs in 2009, had LASIK in 2014 at age 26, after his fifth NFL season. He had said his agent, Drew Rosenhaus, set him up with a doctor who had done many eye surgeries for players with the Heat and Marlins and Panthers in Miami. If Dwyane Wade thought it was worth the risk, he figured, he should give it a try.
"I got it done, and from there on, I could see everything on every test I had," said Biggers, who has had no problems since his surgery. "It was a lot better for me. Just being able to see the ball better, being able to see at a further distance, all those things helped tremendously. Even on the board, in the classroom, it helped me. I don't like surgery or anything like that, but if you did (Wade's) surgery, I definitely want to get that done."
Barber said he knew the benefits he had from improved vision after LASIK, but he said he can only imagine it would help someone at a position like quarterback, where so much of the position is reading defenses left and right and looking down the field.
"If you're in a position that requires precision, like a quarterback, it makes sense for quarterbacks or receivers to get this done," he said. "Because the technology has advanced so much, there's not even a question about the safety of it. When I got it done, I was like, 'What is this thing I'm getting into?"
Holzman said he deals with many athletes who would normally use contacts to correct their vision, but end up not using them in games because of the risk and hassle of losing one and replacing a contact during a game. He operated on a major-league catcher who went from a batting average in the .230 range to making the All-Star Game the next year, hitting close to .330.
"A lot of athletes struggle with contacts, to such a point that a lot just don't wear them," Holzman said. "That's amazing. When you have no correction at all, it's amazing that you can perform at a high level at all without strong visual cues, good depth perception and things of that nature. … I'm a firm believer in vision correction for athletes. I hope (surgery) works out for him, and I think it will. I think it's going to really work for him."