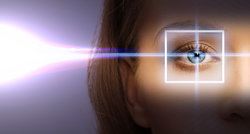 For patients who have tired of the daily hassles of glasses or contact lenses, LASIK surgery can improve nearsightedness, farsightedness, or astigmatism in order to reduce, or completely eliminate, the need for corrective lenses. This widely popular procedure has become a common solution for those who suffer from vision impairment. As successful as traditional LASIK surgery can be, the latest surgical advances offer patients an even safer and more effective surgical solution. Custom LASIK can correct the same corneal irregularities as traditional LASIK, but takes it a step further by improving even the most miniscule imperfections on the cornea, those that cause visual disturbances such as halos and glares. As a result, Dr. Andrew E. Holzman is able to offer his Virginia patients custom LASIK that can improve night vision while correcting other forms of visual impairment.
The Benefits of Custom LASIK
Custom LASIK offers the most precise form of laser vision correction. While traditional LASIK makes basic changes to the shape of the cornea in order to treat myopia, hyperopia, and astigmatism, custom LASIK offers a more personalized level of alteration. Using wavefront technology, Dr. Holzman can create a virtual "map" of the eye. This pinpoints even the most miniscule imperfections that are present on a patient's cornea. By directing the surgical laser to treat these imperfections, the cornea can be reshaped to not only address basic visual imperfections (those known as lower-order aberrations), but also higher-order aberrations. Higher-order aberrations are more complex visual errors that result in distortions such as glare and halos around light, both of which can negatively affect night vision. In short, custom LASIK is able to address a greater degree of visual imperfections than traditional LASIK surgery.
Improving Night Vision
In the past, LASIK surgery was not a good option for patients who were looking to improve night vision, because it is a problem beyond the scope of traditional LASIK surgery. However, with the advances of custom LASIK, night vision can be improved. By altering the eye to treat both lower-order and higher-order aberrations, Dr. Holzman can offer patients clearer vision while also treating complex irregularities, thus resulting in improved night vision.
It is important for patients to understand that improved night vision after LASIK surgery will not be immediate. The side effects of LASIK surgery include glares, halos (particularly around sources of light), and sensitivity to bright lights. All of these are temporary side effects that will likely worsen night vision while these symptoms are present. Once these side effects dissipate, patients who suffered from poor night vision prior to custom LASIK are likely to experience a marked improvement in night vision and the relief of other visual disturbances that made night and general vision unclear.
Contact Us
With advanced laser technology, Dr. Andrew E. Holzman is able to offer his patients surgical solutions for a wide range of visual imperfections. Even those who are not ideal candidates for LASIK may be able to free themselves from glasses or contact lenses through an alternate procedure, such as PRK. If you would like to learn more about our vision correction procedures, contact us to discuss your visual needs and concerns. We look forward to hearing from you.
Related to This