LASIK surgery is the most commonly performed laser vision correction procedure; the treatment safely and effectively corrects the myopic, hyperopic, and astigmatic errors that cause blurry vision in patients. However, the surgery is associated with some side effects and risks, including corneal flap complications, infection, under or over correction, dry eye, glare, halos, double vision, difficulty seeing at night, and starbursts. As the medical director of TLC Laser Eye Centers of Tysons Corner, I strive to reduce the risk of complications in my Virginia LASIK patients by using the latest technology, choosing suitable candidates for surgery, and staying up-to-date on the latest surgical techniques and tools.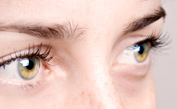 LASIK Technology
Advances in laser vision correction technology make each step of the procedure safer and more precise. The combination of the following technology allow us to achieve the best possible results for our patients:
Intralase® laser: Use of the laser, instead of the blade microkeratome, allows surgeons to create corneal flaps that are the ideal diameter, thickness, and depth. The Intralase® laser significantly reduces the risk of corneal flap complications in LASIK patients.
Wavefront mapping: This technology accurately diagnoses and corrects visual aberrations, resulting in better quality vision and a reduction in glare, halos, double vision, difficulty seeing at night, and starbursts after surgery.
Eye tracking: Eye tracking technology scans the eyes thousands of times per second to ensure that the excimer laser is positioned correctly when reshaping the cornea.
Good LASIK Candidates
Prior to undergoing LASIK surgery, we run a series of eye tests to determine if you are a suitable candidate for treatment. In order to be considered a good candidate, you must:
Be at least 18 years old
Have had the same vision prescription for at least two years
Have some degree of nearsightedness, farsightedness, or astigmatism
Have an adequate amount of corneal tissue
Not suffer from dry eyes
Not have a corneal or other eye disease
Not have any corneal scarring
Not be pregnant or nursing
Patients that are not good candidates for surgery are more likely to develop post-LASIK complications.
An Experienced LASIK Surgeon
Choosing a qualified LASIK surgeon to perform your surgery can also reduce your risk of post-LASIK complications. As a Board Certified Ophthalmologist and Corneal Specialist, I have experience performing various vision correction procedures, including LASIK, RK, AK, ALK, PRK, and NearVision CK. My expertise in the field has allowed me to successfully treat patients with all ranges of prescriptions.
Virginia LASIK Consultations
If you live in Virginia or surrounding areas and are interested in undergoing LASIK surgery, contact TLC Tysons Corner today.
Related to This